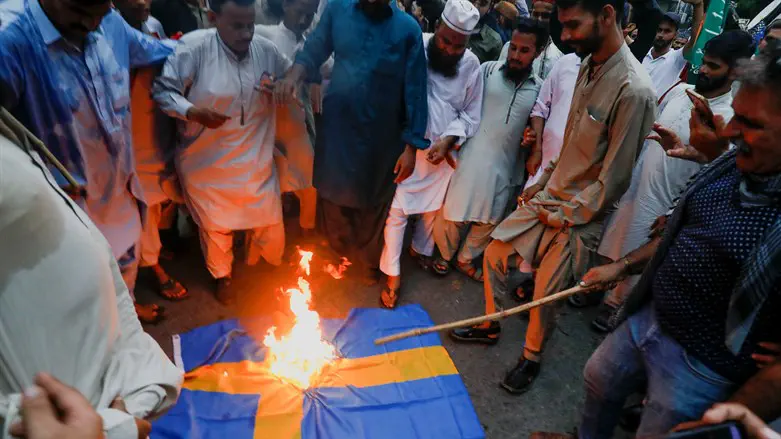 Protesters burn Swedish flag in Karachi, Pakistan
REUTERS/Akhtar Soomro
A senior Swedish official on Monday called for Swedes abroad and businesses linked to Sweden to "observe increased vigilance and caution," following recent Quran burnings in the country which have sparked outrage and protests in the Muslim world, The Associated Press reports.
Henrik Landerholm, Sweden's National Security Adviser, said there are signs of "a heightened threat" to the country and to Swedish interests abroad, adding the security situation has worsened.
In a statement, Landerholm said that "representatives of terrorist groups have called for attacks against Sweden. States and other actors have helped amplify such messages." He said extremists who previously considered Sweden a "legitimate target" now consider it a "priority." The statement did not identify those involved.
Landerholm said there also were "indications" that groups are planning other acts against Swedish interests abroad, citing the storming of Sweden's Embassy in Baghdad last month and an attempted attack on the diplomatic mission in Beirut last week.
Sweden recently said it was examining legal and legislative possibilities to ensure a ban on the desecration of holy books throughout the country.
Public Quran desecrations in neighboring Denmark have also angered Muslim countries.
Denmark's Foreign Minister Lars Løkke Rasmussen recently said the government will seek to make it illegal to desecrate the Quran or other religious holy books in front of foreign embassies.