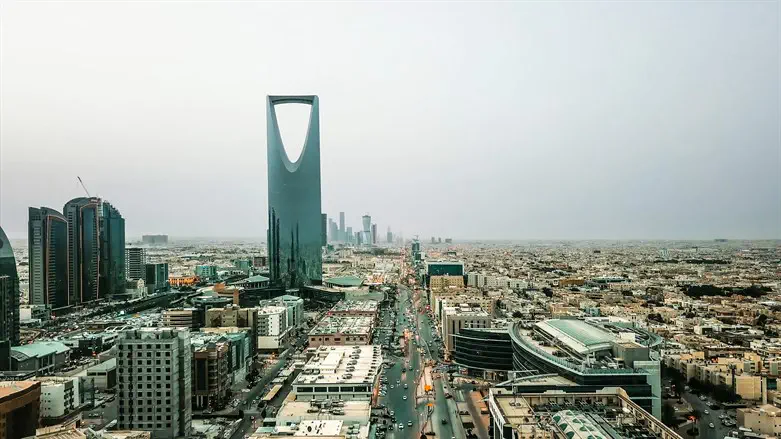 Aerial view of Riyadh, Saudi Arabia
iStock
The issue of possible normalization between Israel and Saudi Arabia came up on Monday during a meeting in Egypt between President Abdel Fattah Al-Sisi, Jordan's King Abdullah II, and Palestinian Authority (PA) chairman Mahmoud Abbas, a source told the AFP news agency.
The three leaders met in the northern coastal city of El Alamein, Egyptian presidential spokesman Ahmed Fahmy said.
During the tripartite meeting, the leaders discussed "the development of the Palestinian cause" and expressed their support for a "two-state solution" to the Israeli-Palestinian Arab conflict with eastern Jerusalem as the future capital of a Palestinian state, Fahmy said in a later statement.
But while there was no mention of the topic of potential Israeli-Saudi normalization in the official statement, a Palestinian Arab source close to the matter told AFP that it was the key topic on the table.
The summit was held "to discuss US efforts to achieve normalization of relations between Saudi Arabia and Israel, and the Palestinian Authority's requirements in the framework of the signing of such a deal", the source told the news agency.
Israel has been for years rumored to have behind-the-scenes ties with Saudi Arabia, but the Saudis have vehemently denied those rumors.
Prime Minister Benjamin Netanyahu has made clear that his goal is to achieve a peace agreement with Saudi Arabia that would "effectively end the Arab-Israeli conflict."
Despite Saudi denials of any contacts with Israel, The Wall Street Journal reported last week that the United States and Saudi Arabia have agreed on the broad outlines of a deal for Saudi Arabia to recognize Israel in exchange for concessions to the Palestinian Arabs.
Saudi officials have repeatedly said that a Palestinian state with eastern Jerusalem as its capital is a prerequisite for Saudi Arabia normalizing ties with Israel.
US President Joe Biden notably visited Saudi Arabia a year ago, where he announced two agreements considered to be significant steps on the path toward normalization between Israel and Saudi Arabia: A deal concerning the removal of multinational forces from the Red Sea islands of Sanafir and Tiran, and the opening of Saudi airspace for all Israeli flights.