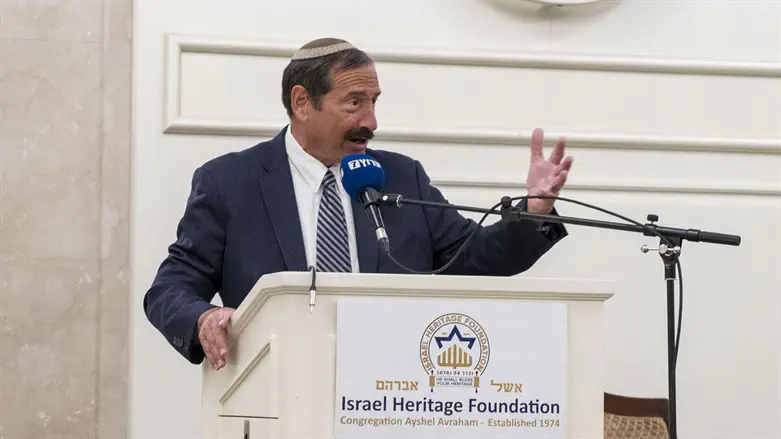 Dr. Joe Frager
Photo: INN
I just got back from visiting Israel with Governor Mike Huckabee and about 30 Americans most of whom had never been to Israel even once. Without exception they all felt it was a life changing experience.
The group was diverse. We had a CEO from Utah who's grandmother escaped Pogroms in Odessa, a former South Carolina Congresswoman who found her family listed at Yad Vashem as having been murdered by the Nazis, and we had the largest grower of watermelons in the United States who marveled at the agricultural accomplishments of Israel.
All on the trip were true patriots. They all did not wince at traveling to the Cave of the Patriarchs in Hebron, or visiting Ateret Cohanim in the Old Jewish Quarter(the so called Muslim Quarter). This is the new and at the same time old reality of Israel.
In 2019 4.55 million tourists came to Israel. In the middle of Covid in 2020 only 831,000 people visited Israel. In 2021 only 397,000 came and despite the lifting of most restrictions 2.675 million came to visit in 2022. This was 41% lower than pre-Covid numbers. 2023 on the other hand looks like it will be a banner year. Some have said that Israel will see at least 10% more visitors in 2023 than in 2019.
Given what my group saw and experienced, I do believe this will be so. This is despite the Terrorism War the Arabs of Israel and its environs have been waging. I pointed out to the group as we were working our way from Hebron to Masada then to the Dead Sea that Arab gunmen had shot and killed 27 year old Elan Ganeles on February 27th of this year on the very same road we were traveling. I explained that Elan was both an Israeli and an American citizen. It did not matter where he was driving.
The Arabs want the Dead Sea area as much as Hebron or Tel Aviv. They do not want Jews to live in Israel anywhere. This point is never made enough times. It is already forgotten that the Arabs waged war against Israel in 1948, 1956, and 1967 not for or over Judea and Samaria but over Tel Aviv, Ashkelon and Haifa. The group now understood more clearly this fact. Without seeing the very road Elan Ganeles was murdered on they would not have understood. That is why it is so vital to bring groups to Israel.
Unfortunately, not enough people and especially Jews visit Israel. Less than half of American Jews have visited Israel even once. According to Pew Research 2021 among the Orthodox 71% have visited Israel. Among the Reform only 21% have visited Israel.
To put things in perspective, Israel had its best year of tourism in 2019 at 4.55 million visitors. By comparison France had over 90 million visitors. Tourism represents 2.8% of Israel's GDP and 8% of France's GDP. Israel may not reach France's visitor count but could easily accommodate twice to three times the number it has handled. The Protests by the Left against Prime Minister Netanyahu have not slowed or reduced Israel's tourist industry. To Prime Minister Netanyahu's credit, the tourist trade does better under him than anyone else to date. Americans and I believe Israelis too feel much safer under his leadership. The statistics don't lie. It is one of the many reasons that he has lasted longer than any other Prime Minister of Israel. Although Aliyah is preferable, traveling to Israel should be encouraged. I have never seen a group as excited and happy to visit Israel as the one that went with the Israel Heritage Foundation this past week.