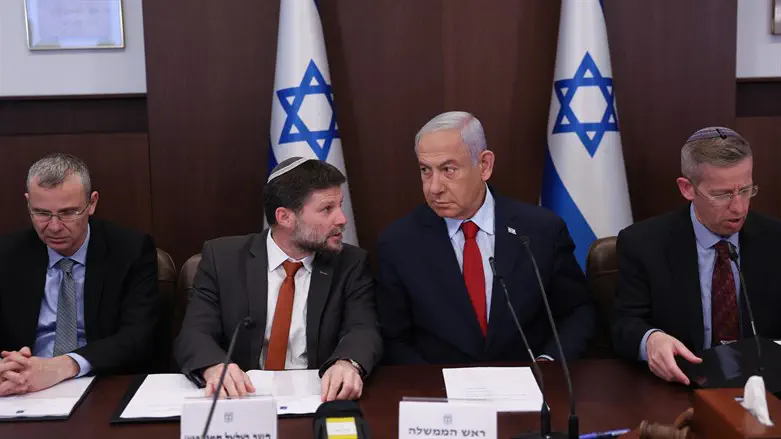 Finance Min. Smotrich and PM Netanyahu
Yonatan Sindel/Flash90
Israeli Prime Minister Benjamin Netanyahu and Finance Minister Bezalel Smotrich (Religious Zionism) on Monday issued a joint statement on Israel's credit rating and the resulting outlook.
"The ratification of Israel's credit rating as A+ and the affirmation of the outlook as 'stable' proves what we have repeated and said the entire time: Israel's economy is strong, stable, and resilient. Israel is good for businesses. Whoever invests in Israel profits," the joint statement read.
"The responsible and conservative policy led by Prime Minister Netanyahu and Finance Minister Smotrich, which includes, among other things, a budget with a low deficit goal, salary agreements, and a free-market policy - proves that the Israeli economy is varied and offers high additional value and strong external financial indices - and that is what the report shows.
"When we examine the true data of Israel's economy, the resulting picture is in contradiction to that which the media channels are trying, every evening, to create.
"Contradicting these false campaigns of panic are excellent statistics, and we will do everything to ensure that it remains this way," the statement concluded.
According to Fitch Ratings, however, "Proposed reforms could weaken Israel's ranking compared with peers." The site also defines "a decline in Israel's institutional strength as a result of reforms weakening judicial oversight" as something that may lead "to a significant negative impact on macroeconomic and fiscal indicators or resulting in a fall in WBGI for Israel."