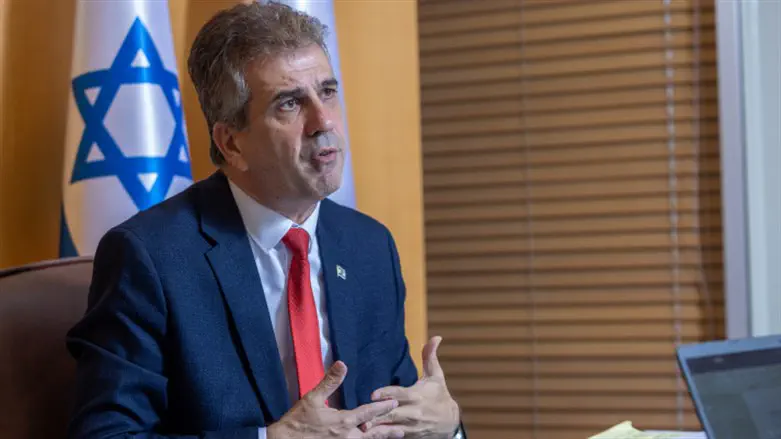 Foreign Minister Eli Cohen
Yossi Aloni/Flash90
Foreign Minister Eli Cohen, in an interview with Israel National News, discussed Saudi Arabia's announcement that it appointed its console in Jordan as its official representative to the Palestinian Authority.
"Israel does not allow any country to open a consulate in Jerusalem. Therefore we did not authorize this for any country, and we will not allow it in the future," Minister Cohen stated, adding that, in his opinion, the move can be considered Saudi lip service to the Palestinians to assure them that they were not forgotten in the negotiations with the US and Israel.
"We proved in the Abraham Accords as well that the Palestinian issue is not a roadblock to peace. This is not the central issue in the negotiations, and therefore I think we could reach a solution in this matter as well while keeping to our ideology," says Cohen.
The Foreign Minister discussed at length the discussions between the United States and the Saudis to advance normalization with Israel. "A year ago already, Saudi Arabia submitted several matters to advance a peace agreement to the US, and only two months ago, Biden decided to determinedly advance the process."
According to him, the Biden Administration kickstarted the process due to "an American interest. In November, there will be elections, and Biden wants to arrive with a considerable diplomatic achievement. In addition, such an agreement contributes to regional stability and the economy and will lower energy prices. Therefore the Americans have a significant interest in doing this.
Saudi Arabia also has interests that are no less or even more than Israel's. They want a defense umbrella against their enemy, which is Iran, to advance economic and technological cooperation with Israel, tourism and so on," he added.
When we asked about the warming of ties between Saudi Arabia and Iran, he insisted that it was only for show. "Saudi Arabia's enemy is Iran, and its potential partner is Israel. Let's remember that Iran attacked Saudi Arabia three years ago. They see the warm relations between Israel and the UAE, with more than 100 flights a day, a trade deal, and therefore they have a significant interest in advancing the process with Israel. A week ago, the Wall Street Journal published that the expectation is between nine to 12 weeks, which according to my estimate, is likely since after that, the US will be sucked into an election cycle.
And what about reports that the process depends on Israel agreeing to a civilian nuclear program in Saudi Arabia? Cohen answers: "It is important to clarify that we will not advance any move that would harm Israel's security. I also published an article in the Wall Street Journal after my visit to South Korea, which is closest to the North Korean nuclear threat. There it was decided that it would receive a defense pact from the US if North Korea would attack it, and a defense pact could also be relevant in the case of the Middle East as well in relations between the US and moderate Arab states. It is certainly a possible solution. It is possible to find solutions. There is a variety of options for a solution to strengthen security."
Peace has a defense and economic benefit. It is correct to leave matters to the negotiations," the minister emphasizes and says that matters are currently being discussed and that he trusts Prime Minister Netanyahu as the one with the most diplomatic experience.