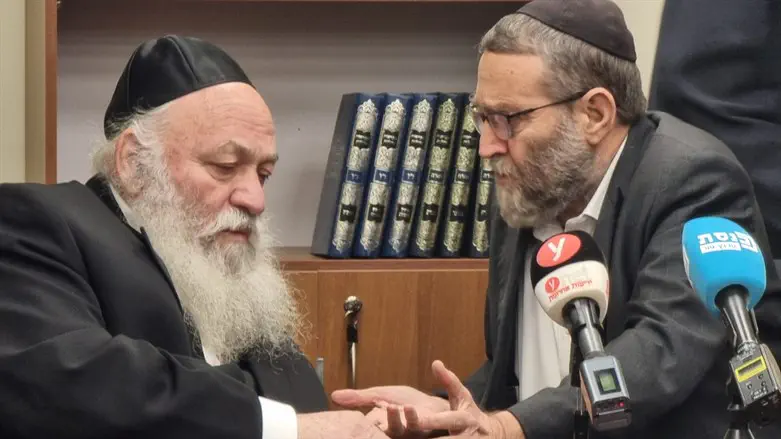 UTJ leaders Yitzhak Goldknopf (L) and Moshe Gafni (R)
Hezki Baruch
A source in the United Torah Judaism (UTJ) has stated that alongside the Draft Law, his party will demand that one of two protective options - the Override Clause, or Basic Law: Torah Study - be anchored in law, Kan News reported.
The source told Kan that haredi MKs "will not vote on another section in the [judicial] reform" without the Draft Law, and they will not be willing to delay its legislation.
The source added that the rabbis will not allow the MKs to be in a situation in which the Draft Law passes but is overturned by the Supreme Court. If the professional staff which is managing the negotiations offers an opinion that the Draft Law does not need to be anchored, however, the haredi parties may accept this opinion.
Other sources in the haredi parties said that even though the negotiating staff is making progress on the issues of delaying service, encouraging employment, and National and civil service, at the same time the discrepancies between the Finance Ministry and Defense Ministry on the matter of benefits for those who serve in the IDF are still large.
"MKs from the coalition who voice condemnation of the Draft Law will vote for it in the end, because they understand that if it is not approved, there will be no coalition," the sources emphasized.