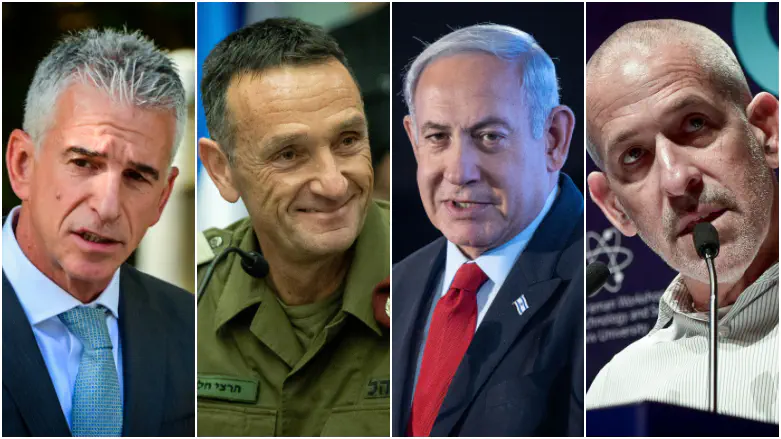 Netanyahu, Barnea, Bar, and Halevi
Yonatan Sindel, Chaim Goldberg, Avshalom Sassoni/Flash90
IDF Chief of Staff Herzi Halevi, Mossad Chief David Barnea, and Shin Bet Chief Ronen Bar are considering releasing a statement together on the state of IDF's security forces in light of the refusals to serve in protest against the judicial reforms, Channel 12 News reported.
Mossad Chief Barnea denied the reports
According to the report, if the declarations do take place, they are expected this month, not is a joint statement, but as separate statements issued in coordination between the three senior officials.
The move, if it happens, will not be to the liking of Prime Minister Benjamin Netanyahu. The three are considering the move in response to the refusal to convene the Cabinet so that the ministers can be updated on the state of the security forces' readiness in light of the controversy surrounding the judicial reforms.
During the cabinet discussion that took place last week, several ministers demanded to receive an update on the state and competence in the IDF and were rejected by Netanyahu, who claimed that what is said during Cabinet meetings is often leaked.
During the Foreign Affairs and Defense Committee discussions about two weeks ago, Defense Minister Yoav Gallant said that there could be damage in the long term to the army's competence, but noted that the army is currently competent. Here News reported that the discussion, which lasted for about three hours, was particularly stormy.
Minister Gallant said during the debate that "there is limited damage to the IDF's competence in the short term, but there is a possibility of damage in the long term. The IDF is [currently] capable of any mission."
According to him, "The internal tensions are analyzed and studied by our enemy. Hezbollah holds the opinion that it now has greater freedom of action below the threshold of escalation."
Senior IDF officials told the MKs that "our enemies see the current situation in Israel as an opportunity to attack Israel."