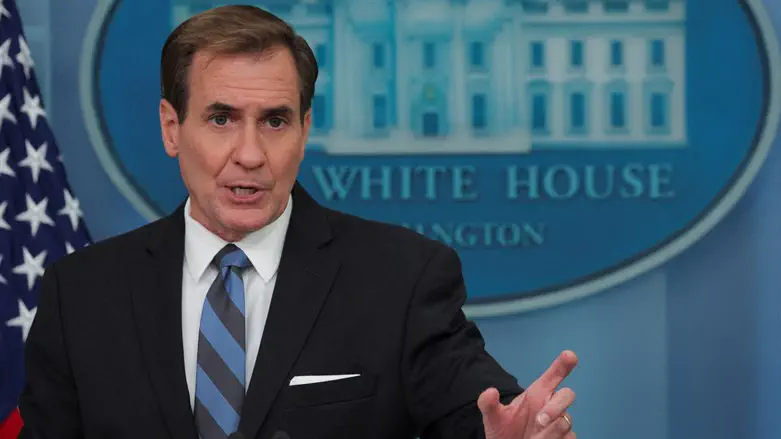 John Kirby
REUTERS/Jim Bourg
White House National Security spokesperson John Kirby on Friday offered caution about the deal with Iran which would see the Islamic Republic release five jailed Americans in exchange for the release of $6 billion in oil revenue for the purchase of critical life goods, The Hill reported.
Kirby stated that "the deal is not done" and that active discussions on how to bring home the five Americans are taking place.
Kirby also defended the deal from Republican criticism, saying the release of $6 billion will be tightly controlled for the purchase of food, medicine and medical equipment that does not have a dual military use.
"There would be a rigorous process of due diligence and standards applied with input from the U.S. Treasury Department," he told reporters in a briefing call, according to The Hill.
On Thursday, Iran moved the five Americans to house arrest as the first step in the deal. Those released to house arrest included Siamak Namazi, who was given a 10-year prison sentence for "collaborating with enemy states," but has been in prison since 2015; Emad Sharghi, who was sentenced in 2020 to 10 years in prison on charges of spying; and Morad Tahbaz, arrested in 2018 and sentenced to 10 years on charges of spying.
Two other Americans are also part of the deal, US officials have said, but they have not released their names out of respect for their privacy.
The $6 billion that will be released to Iran stems from Iranian oil profits in South Korean banks that were frozen in 2019 following a decision by the Trump administration to revoke exceptions for certain countries to purchase oil from Iran while it was under US sanctions.
The move was aimed at trying to bankrupt Tehran and bring its oil exports to zero, part of the former administration's "maximum pressure" campaign that included former President Trump's exit from the nuclear deal with Iran.
The Biden administration will reportedly transfer those funds to a bank account in Qatar controlled by the Qatari government, which will regulate Iranian purchases.
Secretary of State Antony Blinken commented on the deal on Thursday and said that "in any event, in any respect, Iran will not be receiving any sanctions relief" as part of the deal.
"The US will continue to enforce all of its Iran sanctions," he stated.
Despite speculations that the new deal with Iran could lead to talks on a return to the 2015 nuclear deal, Kirby on Friday said that the administration is not focused on talks to renew the nuclear deal.
"If Iran were to take deescalating steps with respect to their nuclear ambitions again, that would all be to the good," he said. "We are not in active negotiations with Iran, akin to the Iran deal, we're not in active negotiations about the nuclear program. But certainly, those sorts of steps if they were to be true, would be welcome."
Iran signed the nuclear deal, known as the Joint Comprehensive Plan of Action (JCPOA), with world powers in 2015. In 2018, then-US President Donald Trump withdrew from the agreement and reimposed sanctions on Tehran.
Iran responded to Trump's withdrawal from the 2015 nuclear deal by scaling back its compliance with the agreement. The Biden administration, however, sought to return to the deal and held indirect talks with Iran on a return to compliance.
While the talks were stalled in September after the sides failed to reach an agreement on IAEA probes of Iran's nuclear activities, recent reports indicated that the US and Iran held indirect talks on a new agreement.
Later, Blinken denied that an agreement had been reached between the Biden administration and the Iranian government on Iran's nuclear program.
"There is no agreement in the offing, even as we continue to be willing to explore diplomatic paths," Blinken said.
On Friday, The Wall Street Journal reported that Iran has significantly slowed the pace at which it is accumulating near-weapons-grade enriched uranium, in what could be seen as a gesture to the US ahead of a possible return to talks on the nuclear deal.
(Israel National News' North American desk is keeping you updated until the start of Shabbat in New York. The time posted automatically on all Israel National News articles, however, is Israeli time.)