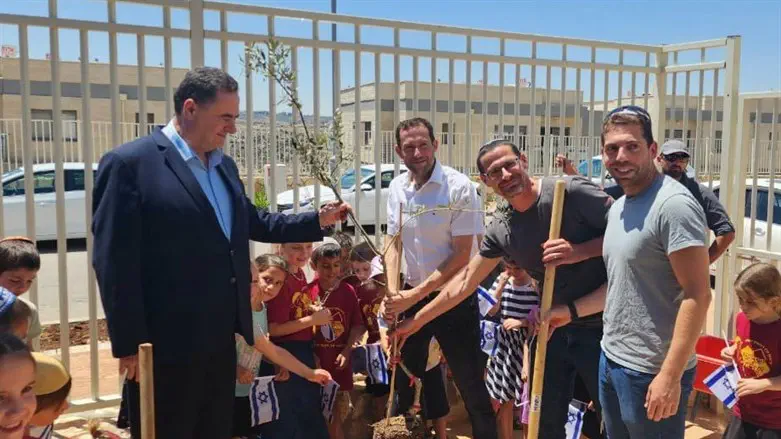 Yisrael Katz together with Yossi Dagan
Spokesperson
Energy and Infrastructure Minister Yisrael Katz (Likud) held a working tour with Samaria Regional Council Head Yossi Dagan.
During the tour, the Minister visited "Israel's Lookout" in Peduel, as well as the rehabilitative preschool in Brukhin, where he planted a tree with preschool children. Following this, he held a work meeting, as well as a meeting with the leadership of the towns in the multi-purpose building in the town.
Katz and Dagan also agreed to form a joint staff which will create a joint plan for augmenting the electricity infrastructure and improving the water infrastructure in Samaria.
Following a lengthy meeting with the Council staff and the towns' leadership, it was agreed to augment the electrical system in Samaria, to improve the quality of service, create a joint work staff to augment the water infrastructures, and return the scope of the electrical company's activity in Samaria to what it was in the past.
Katz was moved to see the great development in Samaria towns and their quick growth, and promised to create long-term solutions to advance the area's vision of one million residents. Thanking Katz, Dagan said, "The settlement movement which will bring a million residents to Samaria requires developed infrastructure."
"The journey also includes strong water and electrical infrastructure, which will be able to serve as the foundation for the new Samaria which we are working towards. I thank the Minister for his devotion to this important issue of supporting the settlements."