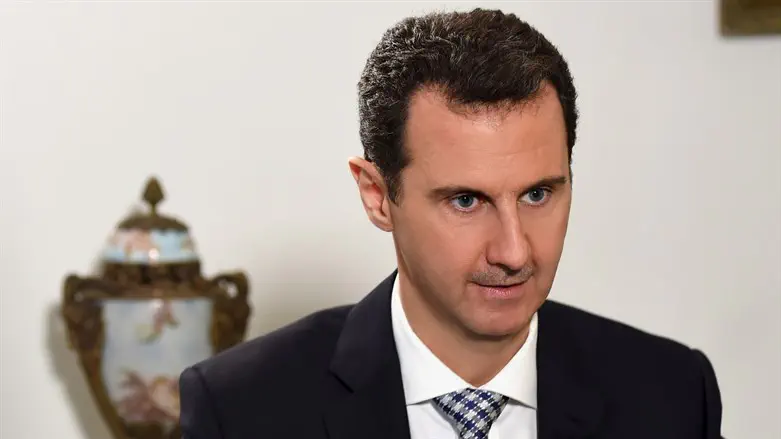 Bashar Al-Assad
Reuters
Syrian President Bashar Al-Assad on Wednesday said that alleged Israeli strikes against targets in Syria would continue "as long as Israel is an enemy."
"Israeli strikes on Syria are directed against the Syrian army under the pretext of the Iranian presence," Assad told Sky News, as quoted by i24NEWS. "The attacks will continue as long as Israel is an enemy."
In recent years, Syria has accused Israel of hundreds of air strikes on its territory, primarily targeting Iran-backed terror militias. Israeli security officials rarely comment on such strikes.
On Sunday night, media in Syria reported an Israeli air strike in Damascus. According to the reports, the Syrian anti-aircraft system was activated following the attack.
A Syrian military official said that the Israel Air Force attacked several targets in the Damascus area from the Golan area.
The official added that the Syrian air defense systems intercepted some of the missiles. Four Syrian soldiers were killed and four others were injured, and damage was caused to property.
In mid-July, Syrian media reported explosions that were heard in the vicinity of Damascus, following an air strike which was attributed to Israel.
The reports said the country's air defense systems were activated against "hostile targets" following the strike.
Earlier that month, it was reported that the Israel Air Force struck targets in Damascus. According to estimations, Iranian arms depots were damaged during the attack.
Syria has several times filed complaints with the United Nations against Israel, urging the body to take necessary measures to deter Israel's attacks and hold it accountable.
In Wednesday's interview, Assad also tamped down expectations of closer ties with Turkey and the wider Arab world. He added that a meeting with Turkish President Tayyip Erdogan could not happen due to a dispute over the withdrawal of Ankara's troops from rebel-held areas in northwest Syria.
"Our goal is (Turkey's) withdrawal from Syrian territory, while Erdogan's goal is to legitimize the presence of Turkey's occupation in Syria," Assad said. "Therefore, the meeting cannot take place under Erdogan's conditions."