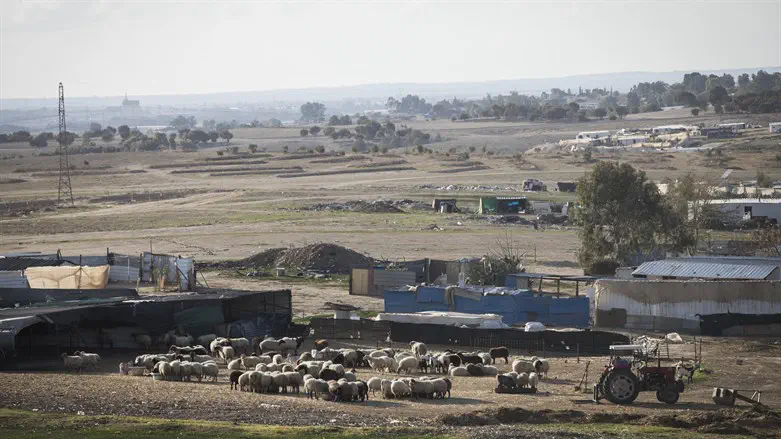 Negev Bedouin
Flash 90
The leaders of the Bedouin Arab community in southern Israel have blamed the Israeli government for working "incessantly" to move 35 illegal Bedouin villages in the Negev, "for the purpose of controlling the land."
In a Tuesday interview with the Hamas-affiliated newspaper Falastin, Aziz Touri, a member of the Local Committee for Protecting Al-Araqeeb, said, "The attempt to remove the Bedouin from their land is carried out on a daily basis by the authorities and the settlers by means of destroying homes, preventing grazing, seizing sheep, and arresting Bedouin on the excuse of their being found illegally at a location."
"Under the extremist right-wing government, the steps to destroy the illegal villages were sped up, in order to advance the plans for Jewish settlement, at the expense of the original residents of the land.
"The Israeli policy against the Bedouin is expressed by making it more difficult to access basic services, a battle against polygamy in Bedouin society, and from time to time also destroying agricultural produce," he claimed.
Touri also said that in recent years, there has been a significant increase in the scope of the home demolitions, while the residents themselves continue to stay on their land and oppose the "Judaization plans."
Touri did not mention that the illegal Bedouin Arab settlements in southern Israel expand by the day, with dozens of new homes built in each area daily, and a general expansion of the towns visible from nearby highways within months. These expansions are done without approval from the Israeli government in a mostly-successful attempt to create facts on the ground.
Atia al-Asam, head of the Regional Council of Illegal Villages in the Negev, said, "The Bedouin residents reject on principle the policy of the Ministerial Committee for Bedouin Issues, which aims to find a solution to the problem of unrecognized villages by encouraging evacuation by agreement, using the carrot-and-stick method."
He also called the Israeli policy "racist" and emphasized that, "Using a heavy had on the Bedouin residents will not succeed, and the government's plans will fail."