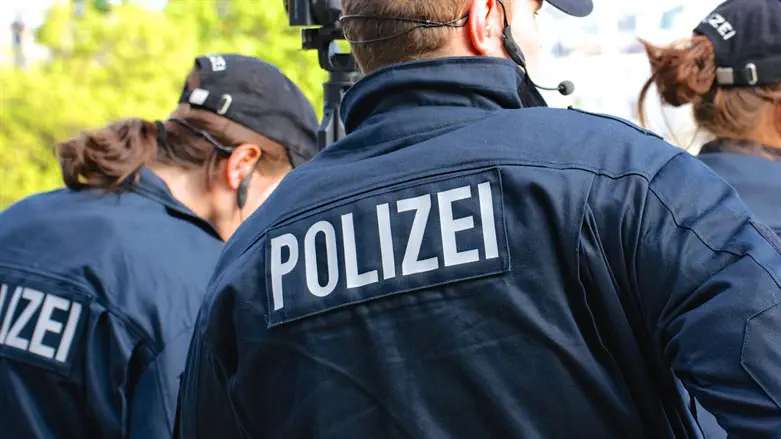 German police
iStock
A 57-year-old woman was arrested in Munich, Germany, after allegedly cursing at children and teachers from the city's Jewish elementary school.
The local police say that the incident took place last Friday, shortly after 8:00 a.m. In addition, the police said that the woman had committed similar offenses in the past.
Shortly after the incident, the school teachers called the police, who soon arrested the woman.
In her interrogation, she claimed that she decided to curse after hearing the group of Jews speaking in Hebrew.
Over the weekend, police in the German capital of Berlin began investigating a possible antisemitic attack after a 19-year-old Israeli tourist reported being attacked by three men.
The unit of the Berlin police responsible for investigating politically motivated crimes is looking into the case after the tourist suffered minor injuries to one of his arms and his face on Saturday night.
The Israeli tourist told police he was walking on a street in the city's Kreuzberg district together with an 18-year-old woman while speaking on his phone in Hebrew.
In June, a Berlin-based watchdog organization released a report which found that violent antisemitism is on the rise in Germany.
According to the report on "Antisemitic Incidents in Germany 2022" from the Federal Association of Research and Information Centers on Antisemitism (RIAS), while the overall number of incidents dropped slightly from the previous year, nine incidents were categorized as "extremely violent," up from six in the previous year. It was the highest total on record since 2017, when the annual reporting began.
The total number of antisemitic incidents RIAS recorded was almost 11% lower than in 2021, which had a total of 2,773, but 26% higher than in 2020, when the total was 1,957.
Last September, a Jewish man was brutally assaulted on the Berlin subway. The attack occurred when a passenger approached him and hurled an antisemitic insult at him.
The assailant proceeded to grab the victim's arm who pushed him away. Another passenger then appeared and both he and the assailant began repeatedly punching the victim in the head and upper torso.
Days earlier, the state rabbi of Potsdam was attacked in Berlin during which he was subjected to antisemitic abuse in front of his son.