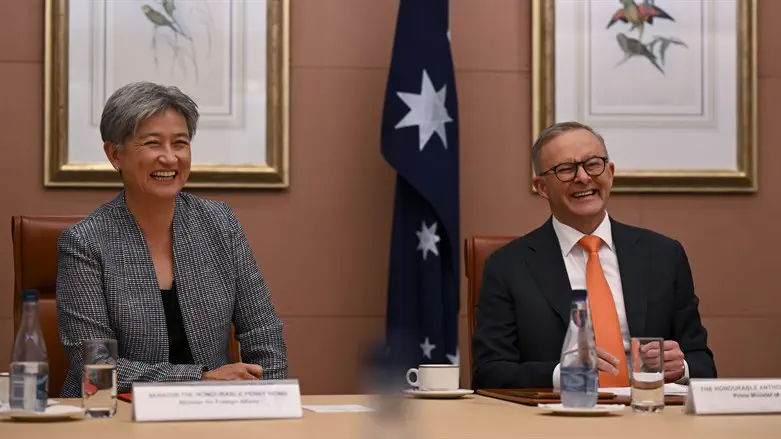 Australian Foreign Minister Penny Wong (left) Australian Prime Minister Anthony
Reuters/AAP Image/Lukas Coch
The Australian government announced today (Tuesday) that it would resume using the term "Occupied Palestinian Territories" to refer to the territories of Judea and Samaria, as well as Jerusalem.
The decision by the Labor-led government reverses the decision of the Liberal government nearly a decade ago to cease using the term.
Australian Foreign Minister Penny Wong told Labor MPs "The Australian government is strengthening its opposition to settlements by affirming they are illegal under international law and a significant obstacle to peace."
She added: "In adopting the term we are clarifying that the West Bank, including East Jerusalem and Gaza, were occupied by Israel following the 1967 war and that the occupation continues and reaffirms our commitment to negotiate a two-state solution in which Israel and a future Palestinian state coexist."
Wong said that the Israeli Ambassador to Australia had been informed of the move and that Australia remained "a committed friend of Israel."
Australian ministers have largely refrained from using the word 'occupied' in connection with the Arab-Israeli conflict since 2014. Then-Attorney General George Brandi told the Senate that "the description of East Jerusalem as 'occupied' East Jerusalem is a term freighted with pejorative implications, which is neither appropriate nor useful."
Opposition MPs slammed the move and called it politically motivated.
Former Minister Simon Birmingham said that the decision had "everything to do with managing factional differences ahead of the Labor national conference and nothing to do with advancing a lasting two-state outcome."
MP Julian Leese told ABC Television that the move showed the weakness of the prime minister and foreign minister and that they are subject to the "whims" of extremists in the party.
The current government of Australia has increasingly moved away from the pro-Israel positions of the previous government. In October, 2022, the government reversed a 2018 decision to recognize the western half of Jerusalem as the capital of Israel.