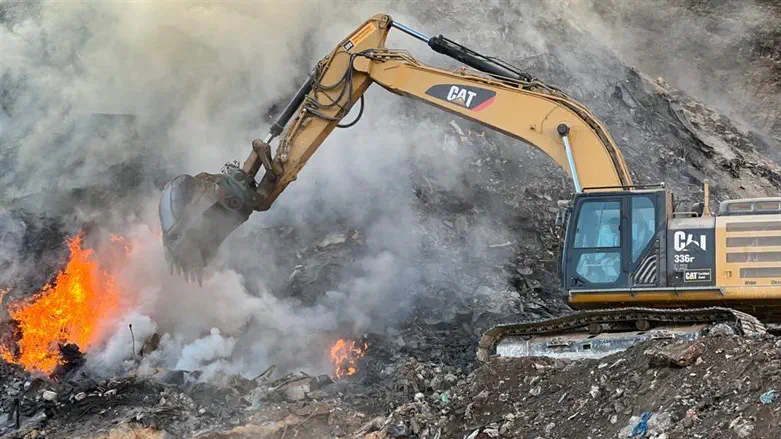 A bulldozer works to extinguish flames at the Arab illegal dumping site
Binyamin Regional Council Spokesperson
The Binyamin Regional Council called out the IDF Civil Administration on Monday over the large fire blazing at the Arab illegal waste disposal site near the Sha'ar Binyamin industrial area.
A large force of firefighters continue to work on extinguishing the fire at the dumping site. The firefighting efforts are proving difficult, and the Civil Administration has begun covering the site with sand in an attempt to choke the flames.
"This is the Civil Administration's blunder since the council and the environmental protection agents warned them dozens of times in recent months that the illegal site would be set alight and seriously pollute the area," the Regional Council stated.
On Sunday, Arabs set fire to an illegal waste disposal site near the Sha'ar Binyamin industrial area after many warnings from the Binyamin Regional Council to the Civil Administration that the lack of enforcement would lead to the burning of the mountain of garbage and air pollution.
The large waste site is located in front of the settlement of Migron in Benjamin and is used as a place for dumping garbage illegally by Arabs from the surrounding area on an industrial scale.
Binyamin Regional Council chairman Yisrael Gantz said that the council warned dozens of times in writing and orally, but the issue was not addressed.
"The Civil Administration is negligent in its duties. Every day, many fires burn in the area, and those who breathe this pollution are not only the residents of Binyamin but also the residents of Jerusalem, Modiin, and the center, whose health is affected. They breathe in a cancerous substance and do not know that it comes from here because of the Civil Administration's failures," Gantz said.