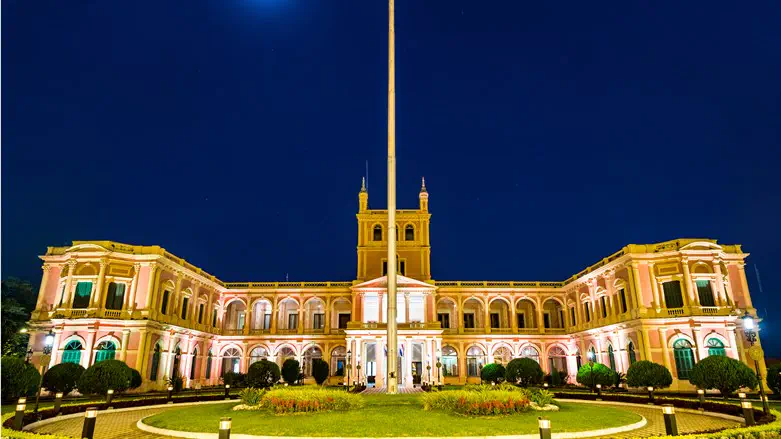 Lopez palace in Asuncion, Paraguay
iStock
The Paraguayan Congressional Israel Allies Caucus was relaunched in the Congress of Paraguay in order to strengthen ties between Paraguay and Israel.
This caucus is one of the 52 pro-Israel caucuses around the world facilitated by the Israel Allies Foundation (IAF).
"We are thrilled to have the support of Paraguayan Senators and Congressman in this bicameral caucus. We are seeing tremendous political support for Israel as the IAF continues to expand its network through faith-based diplomacy around the world," said KCAC Director and IAF President Josh Reinstein.
The relaunch of this caucus comes just before the inauguration of incoming President Santiago Peña, who has expressed support for moving the Paraguayan embassy back to Jerusalem. Senator Gustavo Leite, Chairman of the new Caucus, served as Minister of Industry and Commerce in the cabinet of the government of President Horacio Cartes (2013-2018), when President Cartes moved the Paraguayan Embassy in Israel to Jerusalem. Towards the end of 2018, when Mario Abdo took over the Presidency, the embassy was moved back to Tel Aviv.
Senator Leite commented "I have been working with the Israel Allies Foundation for years, from the time that I served as Minister of Industry and Commerce for President Cartes. Today, as we are headed into a period of excellent relations between Israel and Paraguay under the leadership of the new President of Paraguay, Santiago Peña, I am honored to be serving as Chairman of the Israel Allies Caucus in Paraguay, together with the Senators and Congressmen who believe in the right of Israel to exist within safe and secure borders."
IAF Latin America Director Leopoldo Martinez said, "We have worked with Chairman Senator Gustavo Leite for close to two decades and know him to be a true supporter of Israel on the basis of our shared Judeo-Christian values. The relationship between Paraguay and Israel is headed into a new era of unprecedented collaboration and achievements."