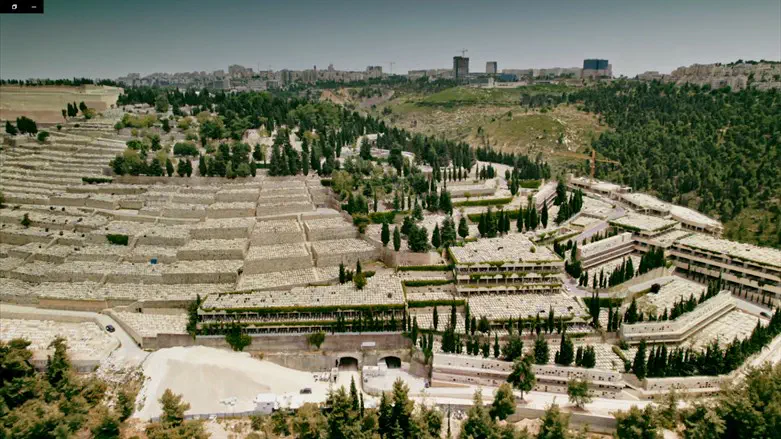 cemetery
chevrah kadisha‏‏
For countless Jews residing outside Israel, the prospect of eternal rest in the Holy Land carries profound spiritual significance. Fortunately, achieving final rest in this revered soil is no longer a luxury reserved for the very affluent. As Moshe Shimon, CEO of the Jerusalem Burial Society on Har Hamenuchot, explains, "We have various cost-effective and accommodating options, from traditional open-air graves to technologically advanced subterranean burial spaces."
The latter, called Minharot Olam, or Hallowed Halls of Eternal Life, is a cutting-edge, technological marvel that follows the rigorous protocols of Jewish law, and has the endorsement of leading halachic authorities, including Israel's Chief Rabbis.
This unique project has earned admiration for its innovative design and functionality. Accessibility is a priority, with elevators and golf carts easing movement around the site. Safety measures include 24-hour surveillance cameras and an efficient intercom system. Modern conveniences such as WiFi and mobile phone reception are integrated throughout the site. Importantly, a state-of-the-art temperature control system ensures a steady temperature, creating a comfortable environment for funerals and memorials regardless of the outdoor weather conditions.
Despite their innovative features, the Hallowed Halls hark back to age-old traditions, a fact emphasized by Shimon. "The concept of an underground cemetery is as old as the time of our forefather Abraham, who buried Sarah in the Cave of Machpelah, as we read in the Torah. Today, we are simply adapting these time-tested traditions to our technologically advanced age."
The aesthetic appeal of the Hallowed Halls is enhanced by a striking art installation by renowned artist Gabriel Yvelle. Composed of an intricate combination of metal and colored glass, these large spherical structures are a visual tribute to life's continuum and perpetual light (ner tamid).
The Jerusalem Burial Society was founded 80 years ago by a group of respected rabbis. It is the largest of its kind in Jerusalem and oversees most burials in the city. Their dedicated team offers round-the-clock support to grieving families, ensuring that personal needs and wishes are respected within the framework of Jewish law.
"Our goal is to provide reassurance through empathy, personal attention, and understanding. We want families to feel supported during their difficult time," he said.