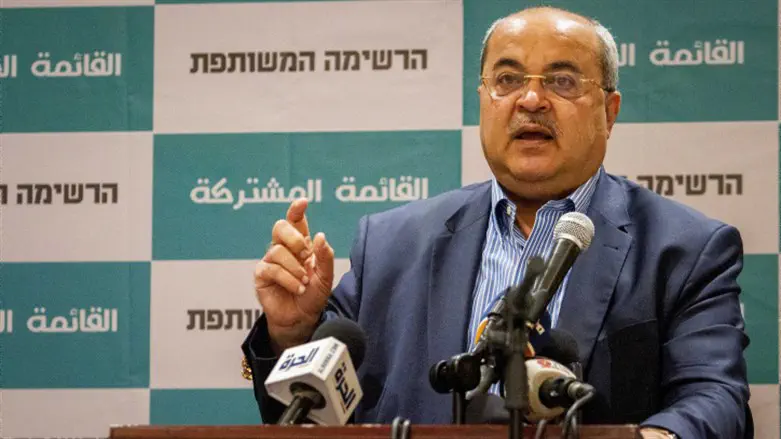 Ahmed Tibi
Flash 90
MK Ahmad Tibi (Ta'al) strongly criticized the "settler violence" following the killing of a Palestinian Authority (PA) Arab on Friday in the PA town of Burqa during clashes in which, among other things, a former parliamentary assistant of a member of the Otzma Yehudit party was arrested.
"After the Supreme Court approved this week the seizure of Burqa's lands in favor of the settlers in Homesh, a group of blue and white Ku Klux Klan from the Oz Tzion settlement penetrated the settlement of Burqa (Ramallah) and murdered the young man Kusai Matan and damaged property," Tibi wrote.
Tibi added: "A young Palestinian was murdered, Kusai Matan, and this is what the security officials have to say: "The incident endangers the security of Judea and Samaria." God forbid it be treated as a murder. It only 'endangers the security of the soldiers and settlers!' How moral."
MK Tibi called the killing of the Arab youth a "terror attack" and placed the responsibility also on the former parliamentary assistant. "Has the military arm of the coalition already taken responsibility for the attack in Burqa? Is MK Limor so proud of the act of her assistants?" asked Tibi.
In another tweet, Tibi wrote: "How lucky the Jewish terrorists are: they never carry out 'terror attacks,' only 'confrontations' which include: murder, arson, vandalism and terrorism against Palestinian residents. And they are always not arrested, they are not searched from house to house to look for the the murderer and they don't destroy their houses. And this happens in every government, and every commanding general."
On social media, the suspected Jew is presented as the "killer" of the young Palestinian. On a Palestinian Twitter account, his picture was published alongside the caption in Arabic and Hebrew: "Await your fate, the murderer of the martyr Kusai Matan. The electronic army of Palestine."