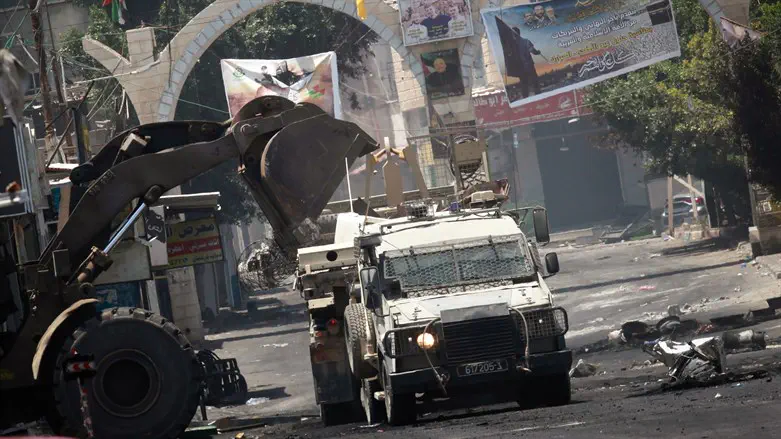 IDF forces in Jenin
Nasser Ishtayeh/Flash90
The Police Commissioner arrived at the scene of the attack at the corner of Nachalat Binyamin and Montefiore streets in Tel Aviv, and said that the terrorist who opened fire on a municipal patrolman of the Tel Aviv Municipality is a 22-year-old resident of the Jenin area.
The terrorist, Kamel Abu Bakr, lived in the village of Rummanah, and for the past two years lived in Jenin. He was taken alive to the Ichilov Hospital, where the doctors pronounced him dead.
Abu Bakr was a key activist in Jenin within the terrorist organization "Jenin Brigade," which is identified with the military wing of the Islamic Jihad, and is considered a wanted man in Israel.
In a video released after the attack, the terrorist is seen saying in Arabic - while holding a weapon: "Blood, blood, blood. This is our only language with them. We will not change our way or our method."
The ISA reported that "the attacker who carried out the attack in Tel Aviv is Kamel Abu Bakr, 22 years old, a Palestinian resident of Rummanah, who was considered as wanted in the Jenin refugee camp for the past six months. He is identified with Islamic Jihad."
"Around 6:25 p.m., a Tel Aviv patrolman team, working in cooperation with the Israel Police, noticed a suspect who did not respond to their inquiries," Commissioner Kobi Shabtai said, adding that after the terrorist shot at one of the patrolmen, the other one pulled out a gun and after a short chase was neutralized the terrorist. The injured patrolman is in critical condition.
Commissioner Shabtai said that the terrorist "left a letter in which he announced that he was ready to sacrifice himself, that he came to be a martyr." According to him, "we are now checking if he had an accomplice."
He noted that the demonstration planned this evening in Tel Aviv "is secure, and we are increasing our forces. The very fact that the patrol encountered the suspect shows proper preparation. We cannot be everywhere at any given time, and here we are appealing to the public to be vigilant, report and we will arrive."
Tel Aviv Mayor Ron Huldai praised the performance of the city's patrolmen: "They are always prepared and ready, it is part of their routine service on a daily basis. We cannot stop living here, life must go on."
He criticized the police: "They promise us security, but they make announcements instead of doing work. We make every effort to preserve life's routines."