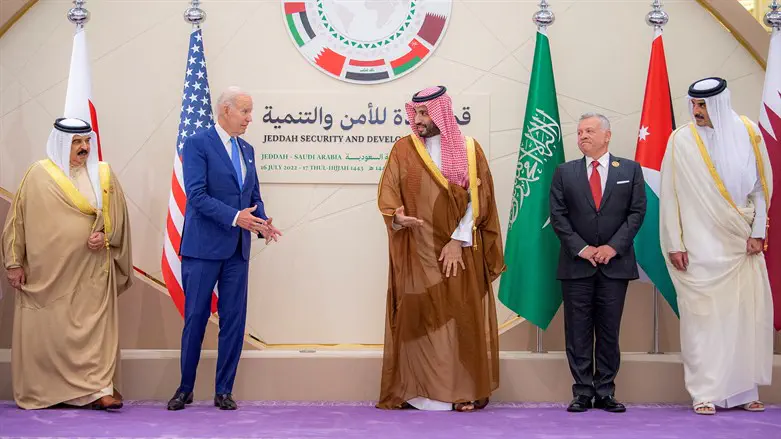 President Biden with Saudi Crown Prince Bin Salam
Reuters
Saudi Arabia conveyed to the US and Israel that it is not interested in small steps on normalization, but rather in significant steps for all parties, and especially in the US commitments to the Saudis, Kan 11 News reported on Friday.
At the same time, the report said, Israel is disturbed by recent criticism from the American administration about what is happening in Israel and believes that this affects how Israel is perceived In the Arab world.
Earlier this week, Reshet Bet radio reported that in order to achieve a breakthrough in normalization with Saudi Arabia, Israel will have to take real steps for the benefit of the Palestinian Authority.
This approach by Israel towards the PA will have to be done not only because of Saudi Arabia's demands, but also because of the need to "soften" the opposition in the Democratic Party to a Saudi-American arms deal and a defense alliance, several sources familiar with the details of the talks said.
Last week, New York Times columnist Thomas Friedman reported that President Joe Biden has confirmed that he has given his advisers the green light to promote a deal with Saudi Crown Prince Mohammed bin Salman that would include normalization with Israel.
Later, Biden confirmed that a deal may be on the way with Saudi Arabia though he did not provide additional details.
Israel has been for years rumored to have behind-the-scenes ties with Saudi Arabia, but the Saudis have vehemently denied those rumors.
Prime Minister Benjamin Netanyahu has made clear that his goal is to achieve a peace agreement with Saudi Arabia that would "effectively end the Arab-Israeli conflict."
However, Saudi officials have repeatedly said that a Palestinian state with eastern Jerusalem as its capital is a prerequisite for Saudi Arabia normalizing ties with Israel.
Biden notably visited Saudi Arabia a year ago, where he announced two agreements considered to be significant steps on the path toward normalization between Israel and Saudi Arabia: A deal concerning the removal of multinational forces from the Red Sea islands of Sanafir and Tiran, and the opening of Saudi airspace for all Israeli flights.
(Israel National News' North American desk is keeping you updated until the start of Shabbat in New York. The time posted automatically on all Israel National News articles, however, is Israeli time.)