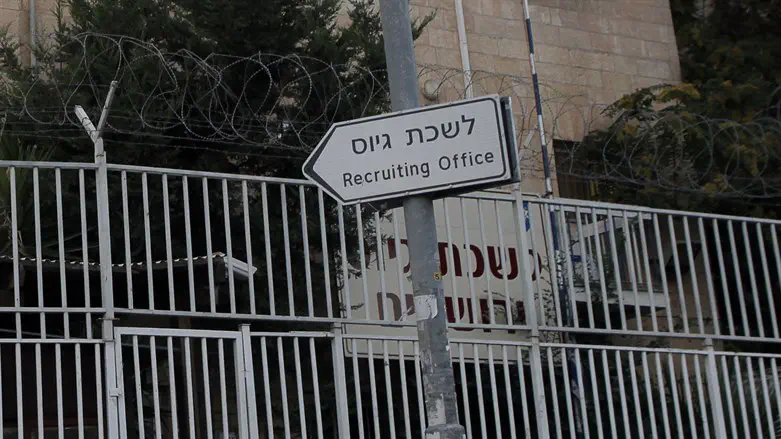 IDF recruitment center Jerusalem
Ori Lanch/Flash 90
Shas chairman Aryeh Deri and Agudat Yisrael chairman Yitzhak Goldknopf have agreed in closed conversations that if the Draft Law exempting haredi yeshiva students from serving in the IDF is not passed at the beginning of the Knesset's winter session, they will dissolve the government, Channel 12 News reported.
According to the report, Deri and Goldknopf announced that they will refuse any further postponement of the Draft Law and that they demand the law be passed even before the next part of the coalition's planned judicial reforms are passed.
The two intend to continue advancing the judicial reform legislation upon the passage of the Draft Law.
"Netanyahu is clear that the Draft Law will be passed at the beginning of the winter session. Without the Draft Law - the government will not exist. It will be a non-justiciable law," said Deri.
Goldknopf added: "We received an instruction from the Council of Torah Sages: without a Draft Law with an override clause - we will withdraw from the government. There will be no further delay in the legislation."
Previous Draft Laws enshrining the right of yeshiva students to defer their military service have been repeatedly struck down by the Supreme Court, which ruled that these laws discriminated against non-haredi citizens who are required to give several years of their lives to the IDF or to national service.
The haredi parties seek to pass a new version of the Draft Law which would be immune from judicial review while maintaining the exemptions for yeshiva students.