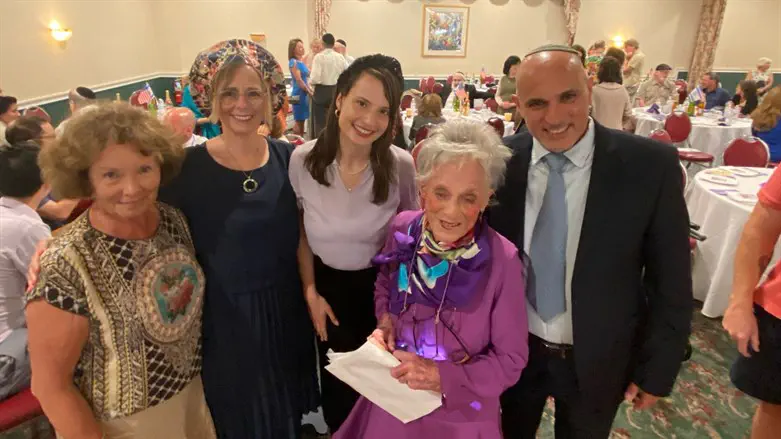 Celebrating with Margot
Courtesy
A very special and exciting event took place recently - a grand 100th birthday party for Margot Einstein in Boston. The event was organized in cooperation with CJUI.
Margot has been a proud member of the city's Jewish community for decades and a very active Zionist on behalf of important causes in Israel, especially those that benefit IDF soldiers.
Video: Yigal Dilmoni with Margot Einstein
Around 400 people from near and far joined in Margot's milestone celebration. Margo decided to use the gathering in order to raise funds for 10 different organizations that are dedicated to advancing Zionism and benefiting the Jewish People, including the Yesha Council.
Representing the Yesha Council at the event were Shira Livman, Yesha Council CEO, Dorit Ostrovsky Schechter, spokeswoman for the Yesha Council, and Yigal Dilmoni, director of international relations for the Yesha Council and a board member of the American Friends of Judea and Samaria (AFJS) organization.
Video: Yigal Dilmoni speaking at the event
During his remarks from the podium, Yigal told the audience that "after many years, we are privileged to be part of the generation that is witnessing the dream come true of the return to Jerusalem along with Beit El, Shiloh, Har Bracha, and hundreds of other historical and Biblical sites, many of which are currently being renovated."
Shira and Yigal presented Margot with special gifts, including a stone taken from an ancient mikveh located on the Path of the Patriarchs in Gush Etzion, which was used by Jewish pilgrims on their way to the Second Temple in Jerusalem 2000 years ago.
They also gave Margot a magnificent Bible with a special dedication from Shlomo Ne'eman, chairman of the Yesha Council. Last but not least, they presented Margot with a signed copy of Prime Minister Benjamin Netanyahu's recently released autobiography, "Bibi." The Prime Minister included a special dedication to Margot as well.
Video: Yesha Council Chairman Shlomo Ne'eman's message to Margot
In addition to the special birthday, the American Friends of Judea and Samaria representatives were invited to speak at various venues throughout the Boston Jewish community and held meetings with friends and supporters of the communities in Judea and Samaria.
"It was our pleasure to meet with hundreds of Bostonians and present them with a true picture of the situation on the ground in the land of the Bible," the members of the group said, "while also sharing some of our current and future challenges".
Click here to join the American Friends of Judea and Samaria
American Friends of Judea and Samariais a non-profit educational organization dedicated to increasing knowledge and sharing the truth about the Israeli communities of Judea, Samaria, and the Jordan Valley to the general public. We also provide our communities with assistance and strategic planning to support humanitarian initiatives, agricultural projects, and more in order to benefit the residents of this area, which we consider to be Israel's historic and modern-day heartland.