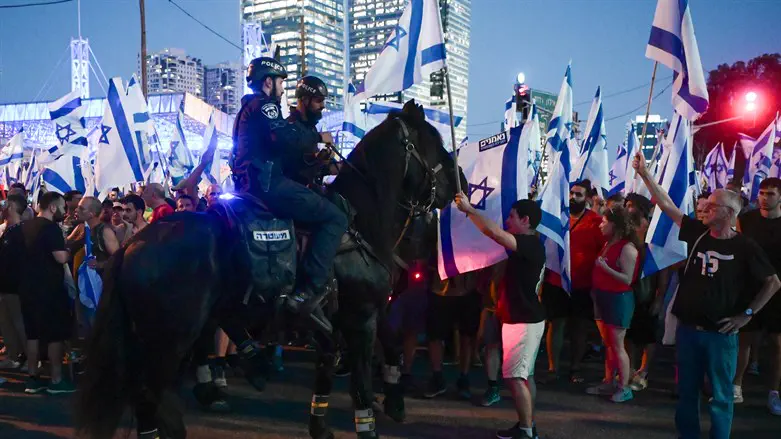 Police at a protest
Avshalom Sassoni/Flash90
A number of law firms announced Thursday morning the establishment of a system to protect the right to demonstrate through legal means on a pro bono basis.
The lawyers stated that the system was established "out of a deep concern for maintaining the right to effective demonstration and the basic rights of the demonstrators."
According to them, "The system will deal with various legal aspects of protection and coordinate the initiation of procedures for the enforcement of the laws and procedures applicable to the Israel Police and the prosecution of illegal use of crowd control measures, the initiation of legal, administrative, tort or criminal procedures against those responsible for wrongful and illegal actions and the exhaustion of the rights of citizens who were harmed in the demonstrations, and other legal steps as needed."
They clarified: "We will act without compensation, as we see our action as our basic duty to the society in which we operate, which stems from being members of the judiciary in a country fighting for its Jewish and democratic character."
The lawyers attacked the Minister of National Security Itamar Ben Gvir: "We take seriously the cases of giving public support for improper behavior by the top of the Israel Police, and condemn the message that increases the incitement coming from the office of the minister in charge of the police."
The move came after the lawyers were exposed, according to them, to "reports of extensive use of police violence, which includes physical assaults on demonstrators, the use of riot dispersal measures that cause injuries, concealment of identity by police officers during demonstrations, illegal reduction of the space in which it is possible to demonstrate, use of the Border Police against civilians, threats to apply additional and more severe measures, unnecessary arrests and repeated denial of rights of detainees."
The lawyers stated that they do not include all the police officers, but "the broad picture that emerges is alarming and dangerous, and there appears to be a trend of gradual escalation."
At the end, the lawyers said: "We call on the police officers of the Israel Police and the commanders of the police to be careful to preserve and protect the fundamental right to demonstrate, to be careful to act legally and properly by the Israel Police, to exhaust the law with the minority among the police officers who violate their duties and to make sure that this task force that we have established will be unnecessary and lacking employment."