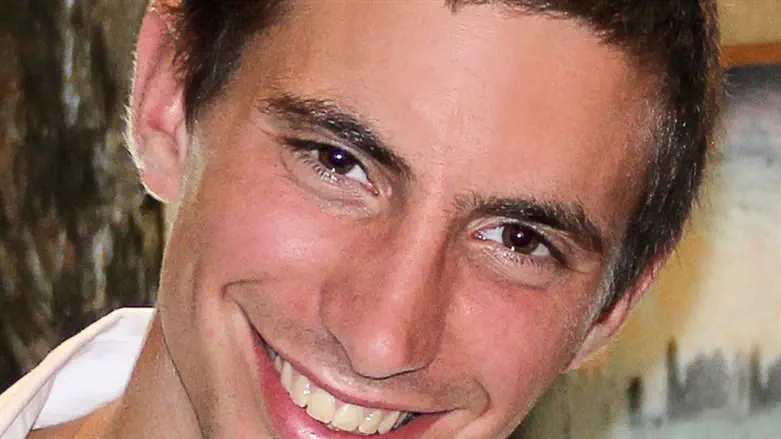 Hadar Goldin
Courtesy of the family
The Izz ad-Din al-Qassam Brigades, the military wing of the Hamas terrorist organization, along with Falestin Alan TV, on Tuesday revealed new information about the circumstances of the operation in which Lieutenant Hadar Goldin was abducted nine years ago during Operation Protective Edge.
Activists of the Al-Qassam Brigades who participated in the operation said that Hamas terrorists were stationed in the "Abu Al-Rus" ambush area from the start of the campaign.
On Friday night, August 1, 2014, a force from the Givati Brigade advanced from east of Khan Yunis towards east Rafah and took positions in the Abu Al-Rus area.
This force consisted of a number of tanks and armored personnel carriers, from which came a number of soldiers who climbed a building in the area. This force was under the observation and fire of terrorists from al-Qassam.
The terrorists updated the headquarters on the situation and stated that they are ready for action, have the necessary equipment and are capable of causing many losses to the enemy.
Raid Attar, commander of the Rafah Brigade, asked them to wait and stated that the command wanted the force to abduct Israeli soldiers.
In the morning, a humanitarian ceasefire was reported, and the movement of Israeli forces was reduced. One of the al-Qassam terrorists then came out of the ambush and began to change the direction of an explosive device that was planted in the area.
The IDF located the suspicious operation, eliminated it by shooting it, and a force from the Givati Brigade advanced towards it. An al-Qassam terrorist, Walid Masoud who was dressed in an IDF uniform, then jumped from the second floor of the building on the force's liaison officer Liel Gidoni and killed him, and the rest of the terrorists opened fire at the soldiers, killing Major Benaya Sarel and Goldin, whose body was then taken through a tunnel into Gazan territory.
The Al-Qassam Brigades presented a tag that was captured during the operation, on which the word Givati and the numbers 400 and 5 appear. Assault rifles that were captured during the action were also displayed.