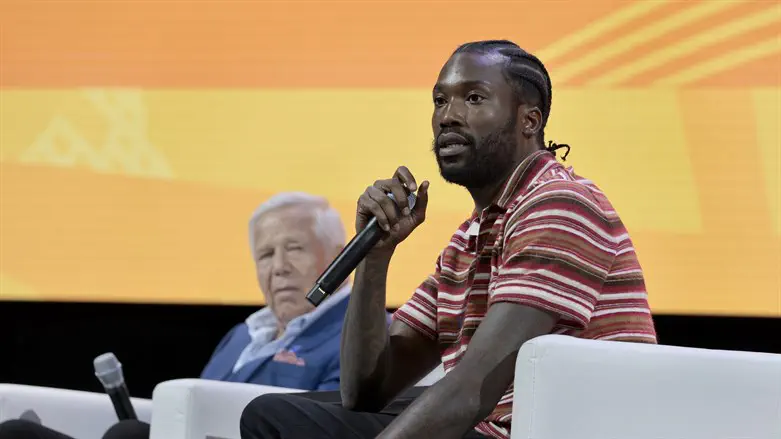 Robert Kraft (L) and Meek Mill spoke at the annual NAACP convention in Boston, July 2023.
Pat Greenhouse/The Boston Globe via Getty Images
New England Patriots owner Robert Kraft participated in a panel conversation on fighting antisemitism and racism on Sunday during the annual NAACP convention in Boston.
Titled "Hate Has No Home: Racism, Anti-Semitism and Building Bridges to Fight All Hate," the conversation was moderated by Fox Sports host Joy Taylor and featured NAACP President and CEO Derrick Johnson, historian Henry Louis Gates, Jr., Kraft and the rapper and activist Meek Mill.
Mill and Kraft have been friends since Kraft helped advocate for the rapper's release from prison in 2018. They co-founded the nonprofit REFORM Alliance in January 2019 to advocate for criminal justice reform, alongside rapper Jay-Z and Fanatics CEO Michael Rubin, who is also Jewish.
Mill spoke about how meaningful it was when Kraft visited him in prison and compared the experience to his trip to Poland with Kraft for the March of the Living earlier this year. He said they each gained an understanding for the other's community and their hardships.
"It was probably two years ago when Robert said, I'm going to get you to come to Poland with me," Mill said during the conversation. "And I didn't know the effects of how many friends I had that were Jewish, that had family members that were connected to what happened in Poland in Auschwitz."
Earlier this year, Kraft launched a $25 million social media campaign called #StandUpToJewishHate through his Foundation to Combat Antisemitism, which aired ads during NFL games last year. He spoke on Sunday about the meaning of "tikkun olam," or repairing the world, and the important partnership between the Black and Jewish communities.
"People are trying to put boulders between the Black community and the Jewish community," Kraft said. "And we've always been uniquely tied together. And I want us to continue that, and any way we can build those ties, I want to be part of that."
Kraft said he hopes his #StandUpToJewishHate campaign — with its signature blue pin, which each panelist wore on stage — would serve as "a symbol of unity and solidarity."
Gates, who teaches at Harvard University and hosts the PBS series "Finding Your Roots," said that anti-Black racism and antisemitism are often tied together by white supremacy.
"I tell my students at Harvard that under the floorboards of Western culture run two streams: one is anti-Black racism and one is antisemitism," Gates said. "And any time a demagogue wants to stir up people they just lift up the floorboards and dipper out all that hatred against our people and against our Jewish brothers and sisters."
Gates also noted the famous friendship between activist Rabbi Abraham Joshua Heschel and civil rights leader Martin Luther King, Jr. He added that he is working on a PBS series on Black-Jewish relations — which he said Kraft was the first to financially support.