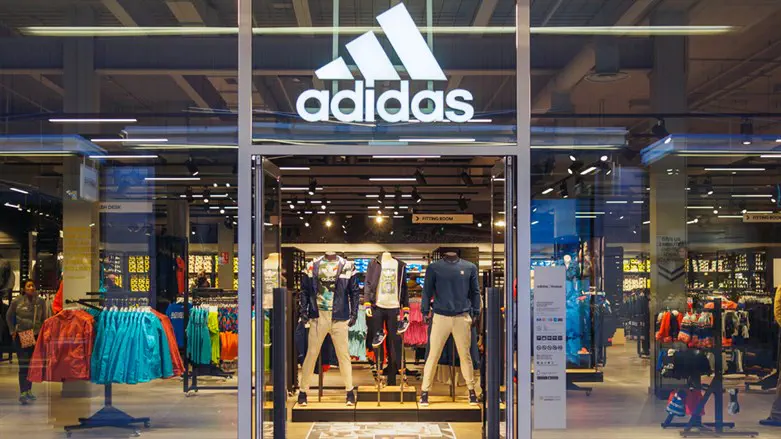 Adidas store
ISTOCK
Different rules apply when it comes to the Jews. Often. And just this week alone, this applies to a few circumstances.
Kanye West praised Hitler, made numerous Anti-Semitic offensive, dangerous comments, and in response to that, Adidas has confirmed they will be relaunching a second wave of popular Yeezy sneakers. While Adidas in 2022 claimed to have terminated their partnership with West, money matters more. It validates his thinking and rants, but it would never ever happen if a celebrity made such offensive comments about any other people besides Jews. Naturally, Kanye will be well paid on this sneaker drop.
Adidas is donating what they claim to be "a significant amount to charity," as a result of this sale including to the Anti-Defamation League and the Philonise & Keeta Floyd Institute for Social Change, run by George Floyd's brother, which aims to fight systemic racism in the United States. Why not all of the sales? Why is Kanye being paid? What does a charity run by George Floyd's brother have to do with Anti-Semitism?
Laughingly, Adidas will show its support for the Foundation to Combat Antisemitism by including blue square pins with the footwear sold directly by Adidas in North America. Buy a sneaker created by someone with a history of praising Hitler, make him even richer, and Adidas will give you a pin "to combat antisemitism." What a joke.
Also this week theatres will see the release of the movie "Golda" about Golda Meir, Israel's former Prime Minister and one of history's most well-known Jewish women. And we see actress Helen Mirren guilty of what some have called "Jewface, which as Variety Magazine rightfully points out, like blackface or yellowface, the term describes actors of non-Jewish descent playing Jewish characters.
Rightfully, actor Maureen Lipman ("The Pianist") "disagreed" with Mirren's casting "because the Jewishness of the character is so integral. I'm sure she will be marvelous, but it would never be allowed for Ben Kingsley to play Nelson Mandela. You just couldn't even go there." Never ever.
And, as Variety Magazine rightfully points out "as well as Mirren playing Meir, in the last five years alone Kathryn Hahn has been cast as Joan Rivers, Felicity Jones as Ruth Bader Ginsberg, Gary Oldman as Herman J. Mankiewicz, Oscar Isaac in the recent HBO re-make "Scenes From a Marriage" (Isaac also previously played a Mossad agent in 2018 film "Operation Finale"), Rachel Brosnahan as Mrs. Maisel, Rachel McAdams in "Disobedience," James Norton in "McMafia," Tom Hardy in "Peaky Blinders," Rachel Sennott in "Shiva Baby," Tamsin Grieg in "Friday Night Dinner," Kelly McDonald in "Giri/Haji," Will Ferrell in "The Shrink Next Door" and, currently in production, Eddie Marsan and Emily Watson as Brian Epstein's parents in the upcoming biopic "Midas Man."
Today, there's sensitivity surrounding EVERYTHING – where is the sensitivity when it comes to the Jews?
It's simple a Jewish actress should have played the role of one of the most famous Jewish women who ever lived – and an Anti-Semite shouldn't be rewarded by a sneaker company. But, it is only Jews, so the rules are different.
Ronn Torossianis an entrepreneur and author.