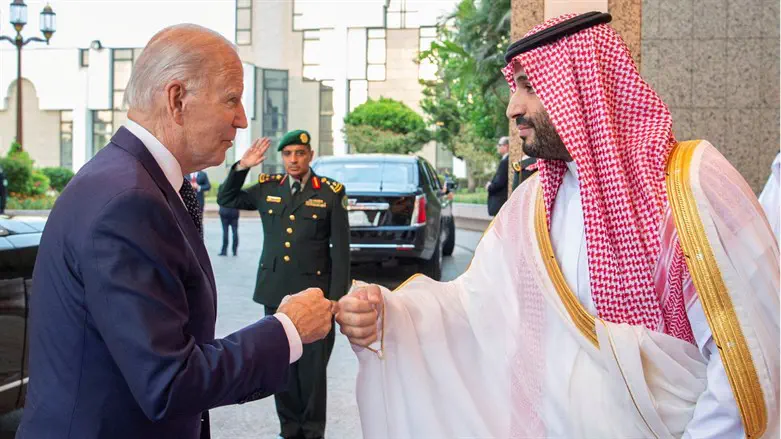 Saudi Crown Prince fist bumps Biden upon his arrival in Jeddah
Bandar Algaloud/Courtesy of Saudi Royal Court/Handout via REUTERS
US President Joe Biden is interested in brokering an agreement between Israel and Saudi Arabia by December, before election year starts, Israel Hayom reported Monday morning.
At the same time, an Israeli official told Israel Hayom that Israeli Prime Minister Benjamin Netanyahu "will not change his principle and historic position on the Palestinian issue for an agreement with Saudi Aabia. The way to achieve a breakthrough depends on the talks between Washington and Riyadh. This is what the Saudis are requesting in exchange. The Palestinian issue is not on their priority list."
"As it is, Israel and Saudi Arabia have enormous connections under the table. Israel has no reason to take steps which will endanger it in the Judea and Samaria arena, for things that mostly happen in any case," the source added.
Israel, meanwhile, is willing to "not take steps which will thwart a future agreement." According to Israel Hayom, what Israel is willing to offer Biden and Saudi Arabia is that it will wait on applying sovereignty in Judea and Samaria for another four years, until mid-2028. This is not an empty promise - under the "Deal of the Century," if the Palestinian Authority does not begin negotiations with Israel by the summer of 2024, Israel may apply sovereignty to Judea and Samaria.
Meanwhile, Biden has until December to decide if he will "take the offer" or not, and any agreement with Saudi Arabia would require approval from Congress, which the US administration is not certain will be provided.