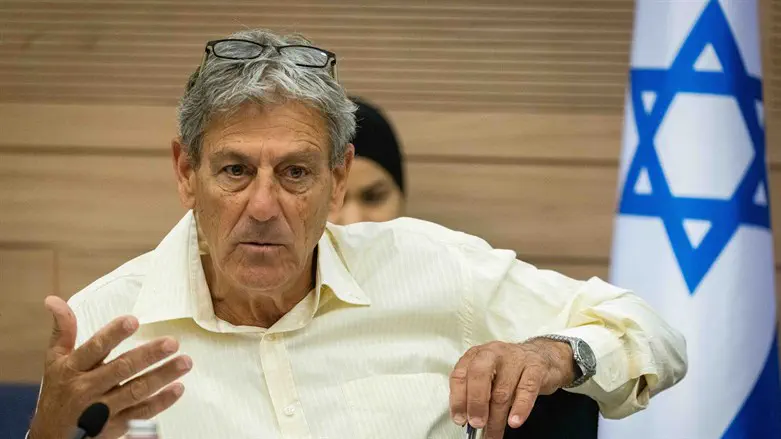 Ram Ben Barak
Yonatan Sindel/Flash 90
MK Ram Ben Barak (Yesh Atid) is unfazed the alleged rebellion in the ranks of the Likud Party and believes that apart from MK Yuli Edelstein, who operates independently, the rest of the MKs in the Likud are working in collaboration with Prime Minister Benjamin Netanyahu.
"He is coordinating it with them, you never know with Netanyahu," Ben Barak told Israel National News and noted that "as for Edelstein, I think he is independent, but I doubt the others are. Time will tell."
He pointed out that the coalition proved, in its conduct over the approval of the law reducing the use of the reasonableness cause, that "there is no desire to negotiate".
He wondered if the law is indeed a small detail as the coalition presented it, saying, "Look what it is doing to the economy and the army. If it's so marginal, then is it so important to you to destroy the country for this unimportant thing?"
"There is a strong desire here to make political appointments of unqualified people just because they bring votes, are associates or family members, without the court being able to tell them that it is unreasonable to appoint them because they have no qualifications," said Ben Barak.
He concluded that "those who want to abolish the reasonableness cause are those who plan to do unreasonable things and they are trying to minimize it. If it is so small, why do you insist on it so much? Look at everything being destroyed all around. After all, the responsibility in the end is not on the pilot or the soldier from the armored corps or on the citizen, but rather on the Prime Minister and the coalition."
Ben Barak continued, "So if they decided to burn down the house in order to provide appointments to all kinds of people and so that they can apply Israeli sovereignty in Judea and Samaria without anyone being able to tell them what to do, then go ahead and do it, no problem, you will bear the consequences."
On the possibility of a unity government, he made it clear that his party will not join Netanyahu's government. "I will try to convince my party, and I think it will accept the recommendation because it thinks the same way, I will never sit under Benjamin Netanyahu in the same government."
He detailed the reasons, "I will not sit under someone who is a consummate liar. He is an arch criminal in my eyes, he divided us and caused conflict between us, he did the most horrible things."
In conclusion, Ben Barak said, "I don't believe a word he says, he didn't keep any deal he made. It's all talk and in the end he sticks a knife in your back, it's all personal considerations, I won't sit with him."