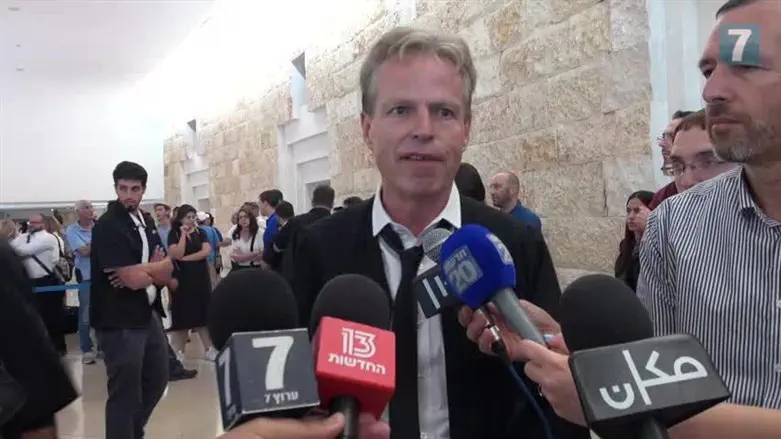 Ari Shamai
Hezki Baruch
Media personality and lawyer Ari Shamai issued a call on Sunday evening, during a discussion on a program on Channel 14, to release Yigal Amir, who assassinated Prime Minister Yitzhak Rabin, and received applause from the audience in the studio.
The discussion dealt with the Supreme Court's ruling regarding the so-called "Tiberias Law", which would have allowed Boaz Yosef, an ally of Shas party leader Aryeh Deri, to run in Tiberias' mayoral election in October.
The law states that a temporarily appointed mayor is allowed to run in the city's next election after a cooling-off period of just three months, instead of having to sit out a full term first.
The Supreme Court did not strike down the law but said it leaned toward delaying its application until the next municipal election and recommended that Yosef withdraw his candidacy.
During Sunday night's discussion on Channel 14, Shamai said, "I am happy to hear one sentence, that the Supreme Court is against personal laws. The time has come to release the assassin Yigal Amir, because a personal law was enacted against him as well."
While the audience applauded, some of the panel members expressed reservations over the comments, and host Yinon Magal asked to move on to the next topic and not to delve deeper into Shamai's words.
Channel 14 said in response, "The serious things that Ari Shamai said reflect his opinion only. In light of the seriousness of the comments, Shamai will no longer be invited to appear on the channel's programs."
Shamai himself told Channel 12 News after the uproar, "Back in the period when I voted for Meretz or Hadash, I spoke against the personal and retroactive law preventing the commuting of the sentence of the assassin Yigal Amir. If his sentence had been commuted, he would have already been released. To remind you, the murderer Zvi Gur had a release date, Yigal Amir does not. I stand behind my words, they are more democratic than any of the [anti-government] demonstrations on Kaplan Street in Tel Aviv."
National Unity Party chairman Benny Gantz responded to Shamai's remarks and said, "Before Rabin's murder, we didn't believe that there could be a political murder in Israel. After him, we prayed that whoever assassinated Israeli democracy would never receive public legitimacy. A very sad and worrying evening."