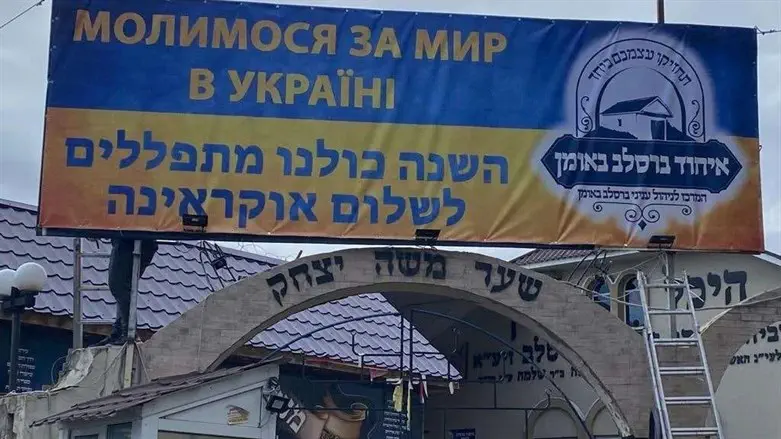 A sign in Uman calling on worshipers to pray for Ukraine
Breslev Uman
Ukrainian Ambassador to Israel Yevgen Korniychuk on Thursday discussed the arrival of Jewish pilgrims to the town of Uman this coming Rosh Hashana (Jewish New Year).
Korniychuk stated that Ukraine is considering limiting the arrival of pilgrims to the area due to security concerns and Russian drone attacks.
"Unfortunately, the Russians spare no expense on the war against us. They kill civilians and bomb areas that are totally unrelated to the battle zones. And therefore, until now, more than 21,000 civilians have been killed in Ukraine," the ambassador stated.
"The area of Uman is not different, and there is a fear that because of the high number of civilians, the Russians will try to hit as many people as possible, including religious leaders and Jewish believers, to cause as much chaos as possible. Uman itself and the suburbs were shelled a number of times, and as a result, dozens of civilians were injured; therefore, we must reduce the danger and, because of this, the expected limit on visitors.
The ambassador concluded: "We hope the prayers are answered, and Ukraine returns to being a country that hosts visitors from Israel, including Jewish believers who come to Ukraine to visit the graves of sages.