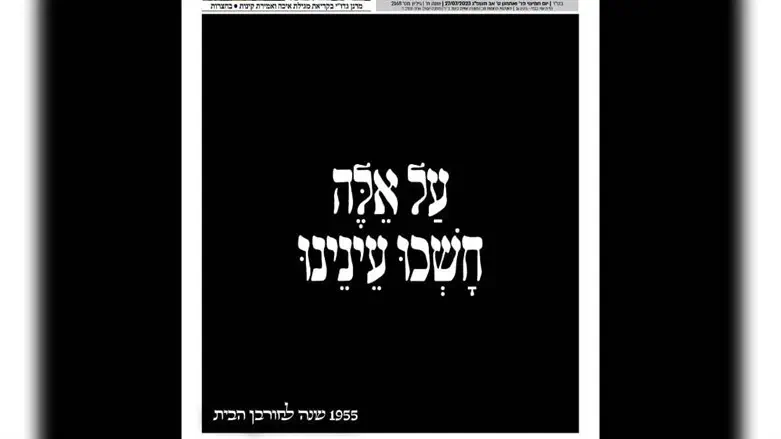 The newspaper's front page
Courtesy of the 'Shacharit' newspaper
The haredi newspaper Shacharit on Thursday morning published a special edition in honor of Tisha B'av, with the words, "For these, our eyes darkened," in the middle of the front page.
The front page of the paper is black, similar to a move by other newspapers earlier this week. Those papers' front page was colored black as part of the "hi-tech protest" against the judicial reform, and the black was a paid ad.
In the bottom left corner of the page were the words, "A black day for democracy in Israel."
Shacharit's black front page was not sponsored by anyone, and in the bottom left of the frame were the words, "1955 years since the destruction of the Temple."
The newspaper's editorial board told Israel National News - Arutz Sheva, "After we saw the editorial boards of the largest newspapers in Israel sell themselves for a high price, and each one announcing the destruction of the Third Temple, we saw fit to remind everyone (for free) about the real destruction of the Temple, the Holy Temple, which we mourn today for 1,955 years, with prayers and hopes that the Third Temple will soon be built, out of boundless love and [by] bringing people closer together."