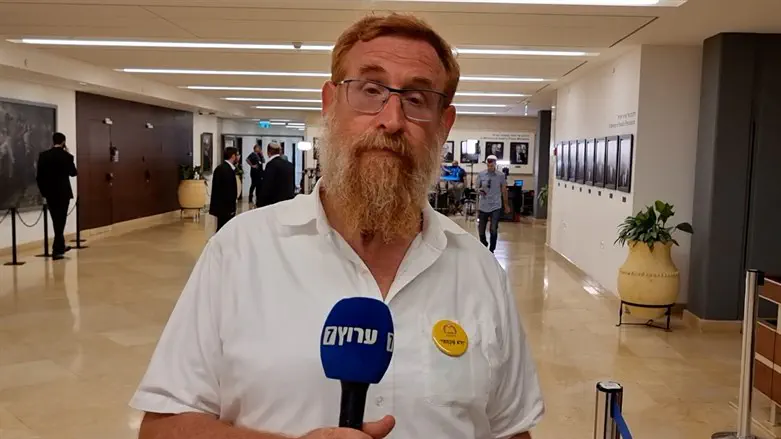 Rabbi Yehudah Glick
INN
Former MK and President of Shalom Jerusalem Foundation Rabbi Yehudah Glick spoke to Israel National News - Arutz Sheva about the 'unity prayer' which was held at the Western Wall yesterday (Sunday) by pro-judicial reform and anti-judicial reform demonstrators.
Glick said that he started the day on the Temple Mount with a prayer for peace within Israel and then joined the crowds in the Western Wall plaza - opponents and supporters of the judicial reform. "We strengthened each other, to remind us all that we are all brothers."
Later in the day he participated in the 'Unity Conference' near the Israel Museum where Rabbi Yaakov Medan and Rachel Azaria spoke. "From the right and the left. People who are hurting over the rift in the people of Israel" came together, he said.
He said that while he supports the judicial reforms, he wants to see unity among the people of Israel. "I don't know what the goals of the people who gathered today are, I did not call for a halt to the legislation. Furthermore, I will participate in the right-wing rally in Tel Aviv and call for the promotion of the plan to strengthen democracy in Israel through judicial reform. I support this, but at the same time I would be happy if all parties could try not to break the rules and to reach agreements as much as possible."
Glick accused anti-reform activists of acting destructively when "the coalition surrendered, compromised, and really tried to hold talks and found no partners. At the same time, I do not feel that we have the legitimacy to give up on the talks and continue to allow the people to be torn apart. We have a duty to try more and more and maybe the opposition will learn that when it breaks things it will be forced to lose and realize that it will not succeed through force."
Regarding the feelings on the right that the voices of the pilots who are refusing to serve are more important, Glick said: "There are extremist elements here who have broken all the tools, so we must not give in to this and must continue with the judicial reform legislation. At the same time, anything that can be agreed upon, I would be very happy for the opposition to put its trust in the coalition and believe that there is a sincere desire to reach agreements - I think that in the case of the reasonableness standard, there were agreements in the President's Residence, so it is important that it is passed."
"Anything that can be done by agreement is better done by agreement. I do not agree that there is a rift that cannot be reconciled. The coalition is in power, it has the power to strive for everything that can be agreed upon. It is important for us as one nation to reach agreements - peace and agreements are the order of the hour," Glick concluded.