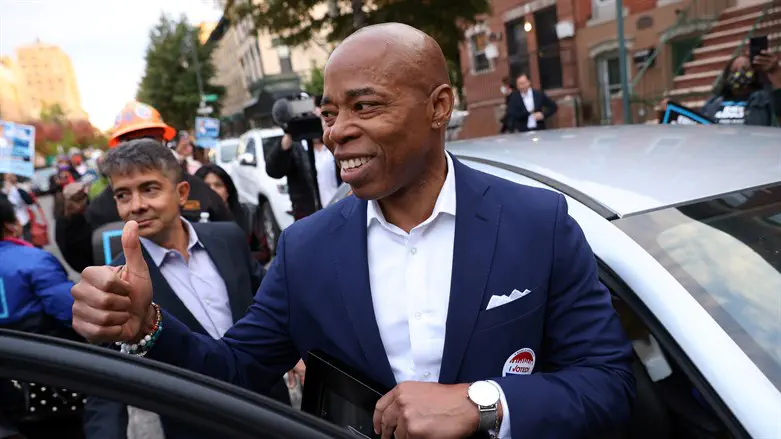 Eric Adams
REUTERS/Andrew Kelly
New York City Mayor Eric Adams on Thursday met President Isaac Herzog during his visit to the US.
"President Herzog is a steadfast friend of our city, and, as we celebrate Israel's 75th anniversary this year, I want to be clear that New York City and Israel share an unbreakable bond. I thank the president for meeting with me and NYPD Commissioner Caban today," Adams said in a statement following the meeting.
"We had productive discussions on how New York City and Israel can continue to collaborate on issues such as security, antisemitism, terrorism, and technology," he added.
"I am proud to be the mayor of the city with the largest Jewish population outside of Israel, but we are also not blind to the fact that many of the verbal attacks being thrown at all of our diverse communities are coming from a minority fringe. And friends are not silent when their friends are under attack," continued Adams.
"New York City would not be the city we are today without our Jewish community, our Muslim community, our Sikh, and Christian communities, and so many other rich and diverse cultures and religions. As we continue to work to defeat hate, I am proud to stand with President Herzog," he concluded.
Also on Thursday, Herzog met UN Secretary General Antonio Guterres, and called on the UN to stand with Israel against Iran and help prevent it from acquiring nuclear weapons.
"Met today with UN Secretary General Antonio Guterres along with Israel's Ambassador Gilad Erdan. I expressed my deep concern at the hostility towards Israel in UN bodies, seen in negative votes and a one-sided view of the conflict in our region," tweeted Herzog.
"We expect the UN to stand resolutely with us against Iran - which calls publicly for Israel's destruction - and to stop it acquiring nuclear weapons," he added.
Herzog came to New York from Washington, DC, where he had met with US President Joe Biden and addressed a joint session of Congress. The President chose to take the train to New York instead of flying from Washington.