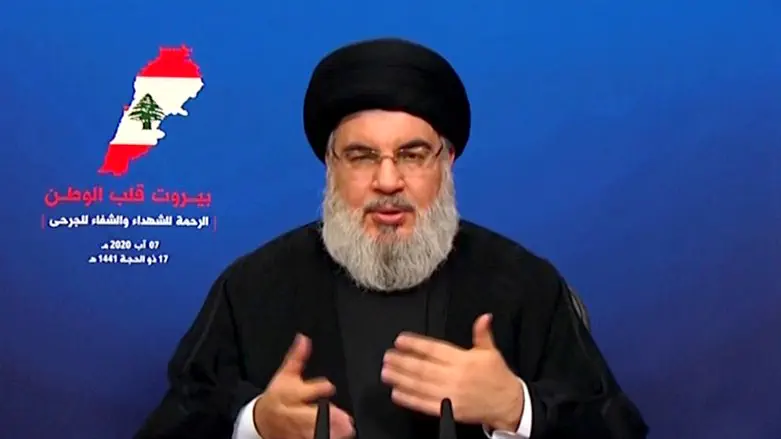 Hassan Nasrallah
Reuters
Hezbollah leader Hassan Nasrallah on Thursday denounced the recent incidents of the burning of the Quran in Sweden, calling on Arab and Islamic countries to expel the Swedish ambassadors from their countries.
Nasrallah also called on people to organize protests and sit-ins in all mosques while brandishing copies of the Quran to call on their state to take a stance against Sweden, according to the Iranian Mehr news agency.
His remarks followed Wednesday night's incident in Iraq, in which hundreds of rioters protesting the burning of the Quran in Sweden stormed the Swedish embassy in Iraq and set the building on fire.
Iraq later announced it would cut diplomatic ties with Sweden and expel the Swedish ambassador. Nasrallah welcomed the move and urged other countries to follow suit.
"All Arab and Islamic countries must do what Iraq did if we want the desecration of the Holy Qur'an to not be repeated," he said.
"What is required of the Arab and Islamic peoples is to put pressure on their countries to expel the Swedish ambassadors from their countries, and to recall their ambassadors from Sweden," added Nasrallah.
He also called on Lebanon to recall its ambassador or charge d'affaires from Sweden and to expel the Swedish ambassador from Lebanon.
Meanwhile on Thursday, Swedish authorities approved a second Quran burning by the same man who caused an uproar after burning the book earlier this month.
Sweden's government had condemned the first Quran burning and called it an "Islamophobic" act.
Last week, a 32-year-old Swedish national planned to burn a Jewish Bible outside the Israeli embassy in Sweden, but ultimately did not, saying the real reason for the protest was to draw attention to the difference between freedom of speech and offending other ethnic groups.