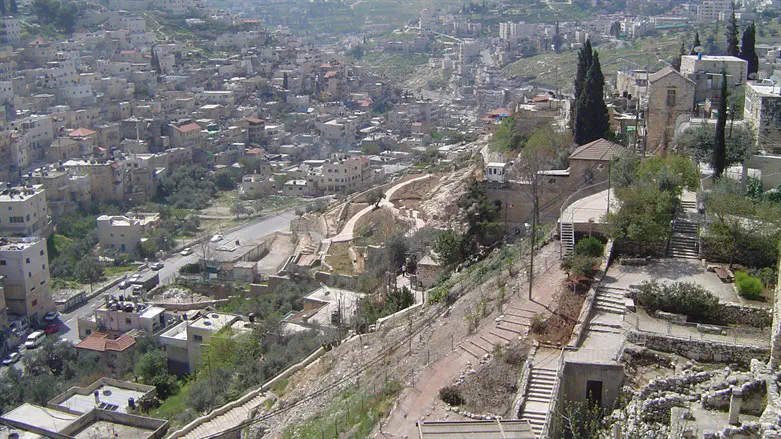 City of David
Kobi Finkler
An indictment was filed today (Thursday) against an Arab who attacked two haredi yeshiva students in the City of David in Jerusalem four years ago, after an appeal was filed following the police's decision to close the case against the attacker.
The Arab, acting with a colleague, attacked the yeshiva students as they were returning from the Shiloah Pool.
The police had originally decided to close the investigation into the attack despite the fact that the incident had been caught on security cameras. The case was reopened following an appeal by the victims. The appeal was filed by Attorney Haim Bleicher of the Honenu lagal organization, and as a result, an indictment was filed against one of the attackers.
The appeal reads: "On August 31, 2019, on Ma'alot Street in the City of David, the appellant and his friend were attacked with kicks and punches by a group of antisemitic rioters. The incident was recorded by two cameras and so were the faces of the attackers. In addition, there were security guards present on the scene who, if testimony had been obtained from them, would have been able to identify the attackers, but The police chose in a most puzzling manner to close this serious case of assault due to the 'criminal being unknown.'"
"Near the visitor center of the City of David, there was a group of minorities, one of the young men came out and ran towards one of the yeshiva boys, while giving him a blow/push. The appellant asked why? And then another rioter came who ran towards the appellant, pushed the appellant with his shoulder and pushed him away With great force. His friend managed to escape towards the security guard's position on the spot while the group of rioters surrounded the appellant and shouted curses in his direction while making obscene gestures with their hands."
Attorney Bleicher said: "In this case, many efforts were made to bring the attackers to justice. The police managed to get their hands on one of the attackers. The importance of prosecuting the attackers is not only for the victim of the crime and performing justice for his sake, but also for all the citizens of Israel from whom these suspects pose a threat to their safety. We will work to bring the suspect to justice both on the criminal and civil levels."