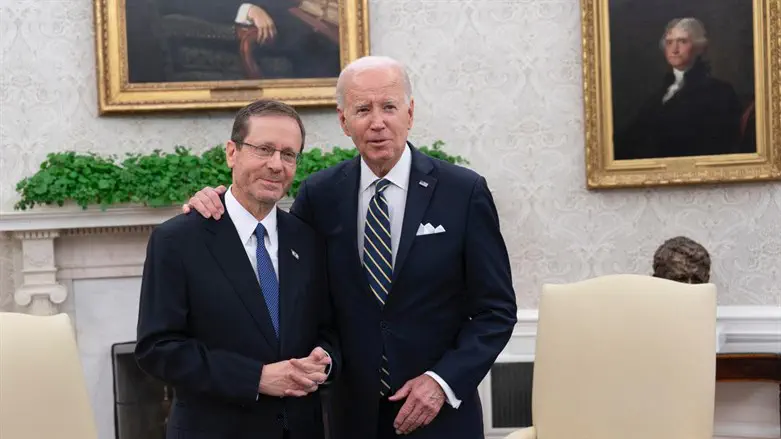 Herzog and Biden
Chris Kleponis
US President Joe Biden on Wednesday night tweeted about his meeting with President Isaac Herzog a day earlier.
"Yesterday, I met with President Herzog of Israel to celebrate Israel's 75th anniversary and discuss key issues of mutual concern," he wrote.
"President Herzog, I look forward to strengthening our partnership as we work to address our shared global challenges," added Biden.
During Tuesday's meeting, Herzog addressed the ongoing controversy in Israel surrounding the government's planned judicial reform. The Israeli president stated that the debate demonstrates the "greatness" of Israeli democracy.
"My heart and soul is also in Israel, in the heated debate, which we are going through as a society. It is a heated debate, but it is also a virtue and a tribute to the greatness of Israeli democracy. Let me reiterate and be crystal clear, Israeli democracy is sound, strong, and resilient. We are going through pains we are going through heated debates, we are going through challenging moments, but I truly believe, and I say this to you, Mr. President, as I have said as head of state to the people of Israel: we shall always seek to find amicable, consensus, and I agree with you on that as well. I am pursuing that even in these very moments through my people as much as we can, in order to find solutions and exit out of this crisis properly," he said.
The meeting between Herzog and Biden lasted for 40 minutes and was followed by an extended meeting together with US Secretary of State Antony Blinken and Biden's National Security Advisor Jake Sullivan.
The two stressed several times the fact that the relationship between Israel and the US is warm and the friendship between the two countries is close, despite the attempt to paint a different picture of the situation.
Meanwhile on Wednesday, Vice President Kamala Harris also tweeted about her meeting with Herzog.
"I met today with President Isaac Herzog of Israel. We reaffirmed the unbreakable bond between our nations, announced new cooperation on the climate crisis, agreed on the importance of democratic institutions, and discussed regional and global security issues," she wrote.