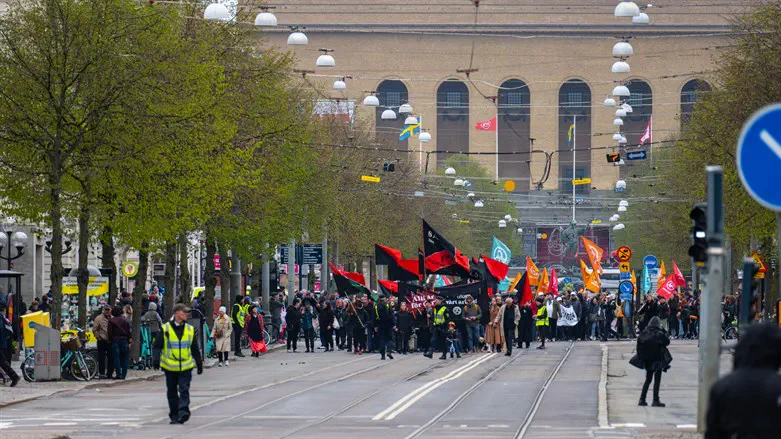 Protest in Sweden (illustrative)
iStock
Ynet reports that Ahmed Alloush, a 32-year-old Swedish national, planned to burn the Jewish Bible in front of the Israeli embassy in Sweden this Saturday, but refrained from actually doing so.

Alloush arrived at the embassy carrying a lighter and Quran. He did not burn any books, and instead threw the lighter on the ground and delivered an address to the spectators that had gathered for the planned demonstration.
"I never thought I would burn any books. I'm a Muslim, we don't burn books. This is a response to the people who burn the Quran. I want to show that freedom of expression has limits that must be taken into account. I want to show that we have to respect each other, we live in the same society. If I burn the Torah, another the Bible, another the Quran, there will be war here. What I wanted to show is that it's not right to do it."
Alloush said the real reason for the protest was to draw attention to the difference between freedom of speech and offending other ethnic groups.
Swedish authorities had previously approved the demonstration, citing Sweden's constitutional protections for freedom of expression. The decision drew condemnation from numerous Jewish, Christian, and Islamic organizations, as well as Israel's senior political and religious echelons.
Earlier this month, activists burned a Quran, drawing mass condemnation from the Islamic world.
Swedish authorities have since announced legislation to outlaw the burning of holy books.