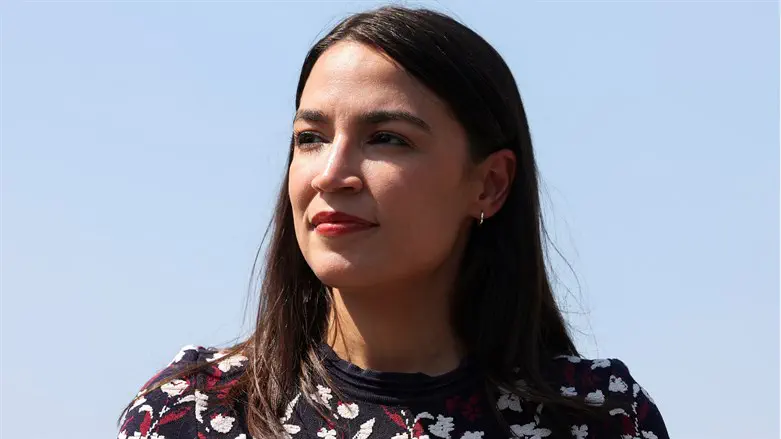 Alexandria Ocasio-Cortez
REUTERS/Kevin Wurm
Rep. Alexandria Ocasio-Cortez (D-NY) on Thursday joined the boycott of President Isaac Herzog's speech before Congress.
Ocasio-Cortez told Axios that she is "not planning to" attend the speech, which is scheduled to take place next Wednesday.
She joins Rep. Ilhan Omar (D-MN) and Rep. Jamaal Bowman (D-NY), who previously announced they would not attend Herzog's speech.
Like Omar and Bowman, Ocasio-Cortez who is known by her initials AOC, has a history of anti-Israel behavior.
In 2019, she criticized Prime Minister Benjamin Netanyahu in an interview with Israel's Channel 12 News while arguing that criticizing Israel's policies is not being antisemitic.
In a previous radio interview, Ocasio-Cortez said that Israel is "criminal" in its treatment of Palestinian Arabs, whom she said have no other choice but to "riot" against the Jewish state.
Before that, she said that cutting military and economic aid to Israel as a way to signal opposition to Israeli policies should be "on the table." AOC has also called Israel an "apartheid state".
Last year, she was among the signatories to a letter which was sent to the Biden administration, calling on it to keep Israel out of the Visa Waiver Program due to its "disparate treatment" of Palestinian Americans trying to enter Palestinian Authority-assigned areas of Judea and Samaria.
Earlier on Thursday, former US Vice President Mike Pence criticized Omar over her boycott of Herzog's speech.
"Israel is one of our greatest and most important allies," he tweeted. "Your defense of terrorists and attacks on the Jewish state are sickening. There is no place for antisemitism in our society."
"I will never apologize for standing with Israel. Stand with me," he added.
Meanwhile, National Republican Congressional Committee spokesperson Will Reinert blasted Bowman for his boycott of the speech.
"Jamaal Bowman, seeing no condemnation from his colleagues for Ilhan Omar's antisemitism, has decided to join in her hateful boycott. How long will House Democrats allow this rabid antisemitism to grow in their ranks?" he said in a statement.