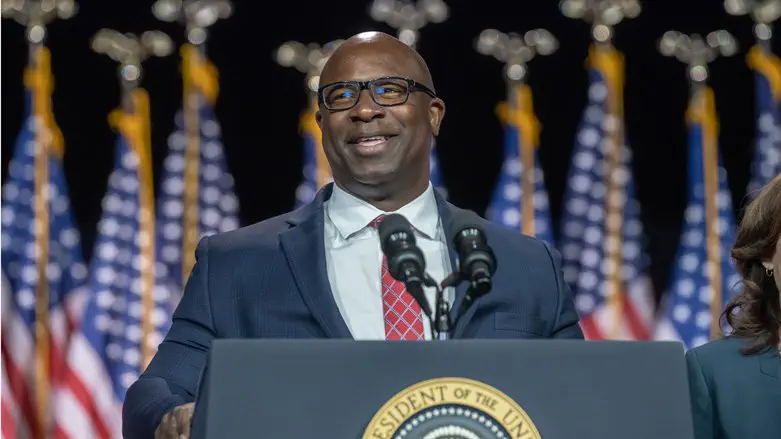 Jamaal Bowman
Ron Adar / SOPA Images/Sipa USA via Reuters Connect
Rep. Jamaal Bowman (D-NY) confirmed on Thursday that he will join Rep. Ilhan Omar (D-MN) in boycotting President Isaac Herzog's address to a joint session of Congress next week.
"The Office of Congressman Jamaal Bowman can confirm that the Congressman will not be attending President Herzog's address," a Bowman spokesperson told Haaretz.
Bowman and Omar skipped Indian Prime Minister Narendra Modi's address to Congress last month over India's human rights record.
Bowman's announcement comes a day after Omar, in a lengthy Twitter thread, said that "there is no way in hell" she would be attending Herzog's speech.
Omar is no stranger to anti-Israel statements and actions, going back to 2019 when she suggested on Twitter that Republicans were attacking her at the behest of the pro-Israel lobby AIPAC.
Asked earlier this year about her past antisemitic statements, Omar told CNN that she was not aware that her comments could be viewed as antisemitic.
The House of Representatives later voted to remove Omar from the House Foreign Affairs Committee due to her past antisemitic statements.
Bowman, for his part, in April spearheaded an initiative by 14 Democrats who urged the Biden administration to ensure US taxpayer funds are not supporting "Israeli settlements projects", and to determine whether US military aid is in violation of the Arms Export Control Act or the so-called "Leahy Law."
The Arms Export and Controls Act stipulates that US weapons are sold only for legitimate self-defense, while the Leahy Law prohibits US funding from being used to equip or train foreign military forces suspected of human rights abuses or war crimes.
Earlier on Thursday, former US Vice President Mike Pence criticized Omar over her boycott of Herzog's speech.
"Israel is one of our greatest and most important allies," he tweeted. "Your defense of terrorists and attacks on the Jewish state are sickening. There is no place for antisemitism in our society."
"I will never apologize for standing with Israel. Stand with me," he added.