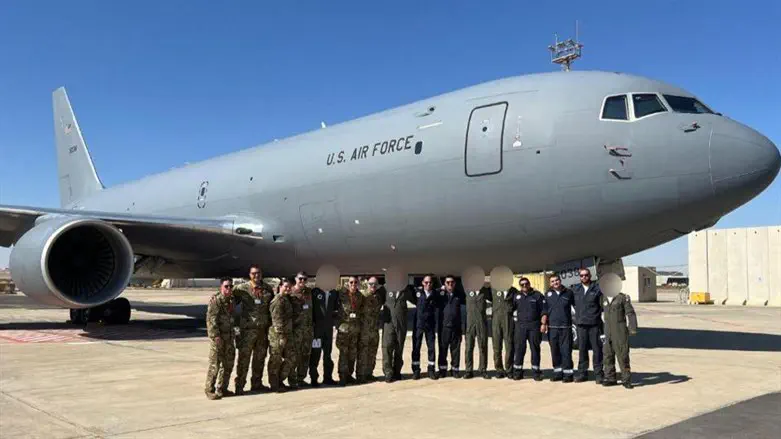 During the Juniper exercise
IDF spokesperson
The Juniper Oak 23.3 Joint IDF and US. Central Command concluded the third Juniper Oak Exercise of 2023.
The exercise aims to test and improve the readiness of both armed forces for joint operational activities in a number of various scenarios.

The exercise was led by the 115th "Flying Dragon" Squadron, the IAF's enemy simulation squadron, and included the participation of a number of the IAF's fighter squadrons.
A USAFCENT fighter squadron of six F-16 aircraft participated alongside the IAF squadrons. This exercise constitutes an integral part in preparing for the Blue Flag Exercise that is set to be conducted during October.

Throughout the week, the squadrons trained in long-range strategic strike missions in areas with simulated multiple threats, electronic warfare and area defense against hostile aircraft infiltration.
Additionally, an American KC-10 tanker aircraft, the IAF's future tanker aircraft, landed in the Nevatim Air Force Base. Professional meetings were held between Israeli and American teams in order to study the aircraft's new platform. The meeting was held in order to strengthen the aerial capabilities and advance cooperation between the two armed forces.
On Tuesday, the IAF's 109th Squadron carried out a midair refueling with an American KC-10 tanker aircraft. On Thursday, the 119th squadron in cooperation with the American 555th aerial refueling squadron carried out a midair refueling using an American KC-46 tanker aircraft.
The exercise also included combat scenarios in the cyber dimension. The IDF's Cyber Defense Array, together with the US Armed Forces, trained against a variety of threats in this field as part of a long-term strategic partnership aimed at improving the readiness of both armed forces for a campaign in the cyber dimension