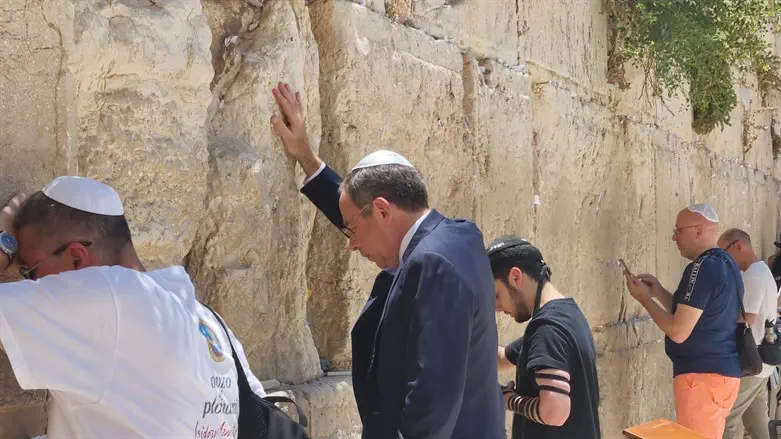 Thomas Nides at the Western Wall
The Western Wall Heritage Foundation
US Ambassador to Israel Thomas Nides began his tenure two and a half years ago with a visit and prayer at the Western Wall, where he lit candles during the official Hanukkah candle-lighting ceremony.
Now, concluding his tenure, Nides has arrived for a personal and national prayer at the Western Wall ahead of his return to the US.
During his tenure as the US Ambassador to Israel, Nides visited the Western Wall on dozens of occasions and participated in many events.
"The Ambassador saw the Western Wall as a significant place and a spiritual center for the Jewish people, and he cared deeply about its development," a statement said.
Recently, Nides visited the United Hatzalah headquarters, speaking with teens participating in the NCSY Hatzalah Rescue summer program.
"This summer for you is a very cool thing to do and it is something that you will always remember. Now you're 15 or 16 or 17, and in a few years, you will look back and think to yourselves, 'Wow! That was very cool,'" Nides told them.