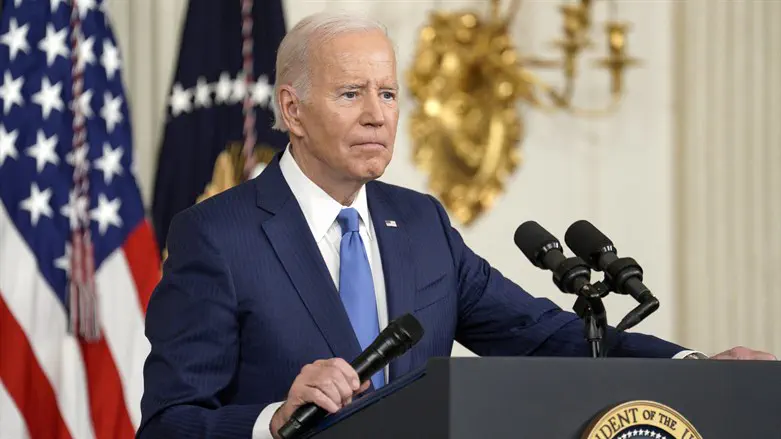 US President Joe Biden
Gripas Yuri/ABACA via Reuters Connect
The Biden administration on Tuesday published a rare statement in which it urged Israel to respect the right of peaceful protests, in the wake of the "Day of Disruption" by protesters who oppose the judicial reform.
"We urge authorities to protect and respect the right of peaceful assembly," a spokesperson for the White House National Security Council said.
"It is clear there is significant debate and discussion in Israel on the proposed plan. Such debates are a healthy part of a vibrant democracy."
The spokesperson again called for an agreed upon solution regarding the judicial reform.
Protesters demonstrated across the country beginning on Tuesday morning, with the protests continuing well into the evening hours. Over 70 protesters have been arrested.
In one of the largest demonstrations, thousands of people gathered for a protest at Ben Gurion Airport. Airport officials stated that no flights were affected by the protest.
US officials have repeatedly opined that any changes to the judicial reform in Israel should be implemented with the agreement of both the government and the opposition.
In March, Biden offered very harsh criticism of Israel, saying he is "very concerned" about the goings on in light of the judicial reform and adding, "They cannot continue down this road."
On Monday, the outgoing US Ambassador to Israel, Thomas Nides, told The Wall Street Journal that the Biden administration is trying to stop Israel from "going off the rails" with the overhaul of its judicial system.
Nides said the planned overhaul raised questions about Israel's democratic credentials and the US-Israeli bond, which he called "as close as family".