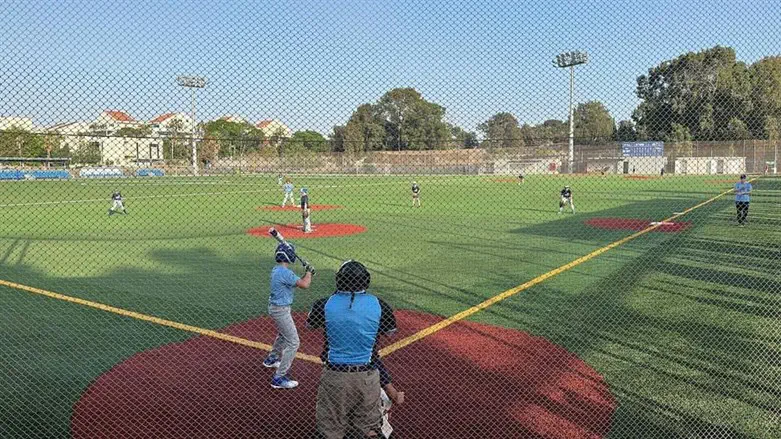 The team on the basebal diamond
David Weiss
On Friday July 14, 2023, 14 youth from the North Israel Little League All Star team will depart from Israel and travel to Kutno, Poland, to represent Israel in the Little League World Series qualifiers.
This is the first time that Israel will participate in the tournament.
The team is made up of the top baseball talent from the Galilee to Tel Aviv. Team members range in age from 10-12 years old. While some players come from English speaking homes, most do not. Only a handful have seen a professional baseball game. But, all of these players are passionate about their sport.
"When I look at this team, I see what Israel should be," says Team Manager David Weiss of Ginot Shomron. "The kids play as a team despite their many differences. We have players from the center and the periphery. We have both religious and secular kids. They come from big cities, yishuvim, moshavim and kibbutzim. Some are bilingual and others speak only Hebrew. What I love is that none of them care about these differences. They only care about the effort that their teammates put on the field."
David Weiss grew up in New York City as a passionate New York Mets fan. He made aliyah (immigrated to Israel) in 2008 and brought with him his love of baseball.
The team will proudly carry the flag of Israel to Poland.
Eitan Weiss, 11 years old and David's son, knows his ancestors left Poland and scattered. Some settled in the USA and some settled in Israel. Eitan's great-great-great grandparents, Yecheskiel and Serel Pfeffer, left Sanz, Poland, in 1900 and eventually settled in Kfar Saba in 1935. Eitan and David will be the first of their many descendants to return to Poland in more than 120 years.
"I love baseball. I am thrilled to carry degel Yisrael (the Israeli flag - ed.) to Poland and to be part of the team," says Eitan.
Coach David Weiss (center) with players Eitan Mandel (left) and Eitan Weiss (right)
Credit: David Weiss
Coach David Weiss with his team
Credit: David Weiss