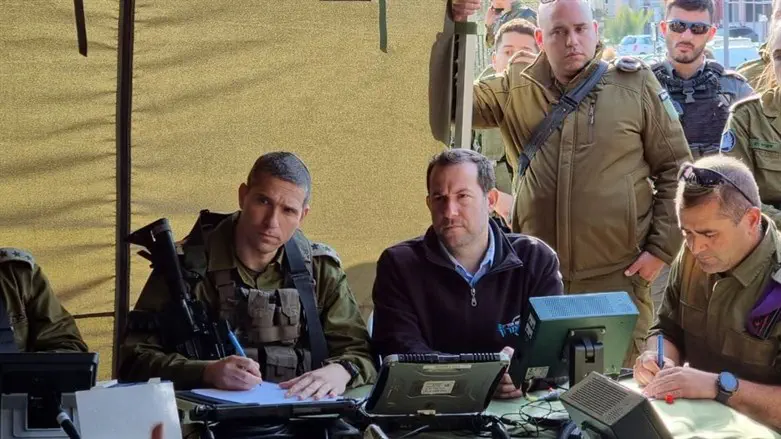 Dagan
Samaria Regional Council
After terrorists fired rockets from the Jenin area towards the Jewish community of Shaked in northern Samaria today (Monday), the head of the Samaria Regional Council, Yossi Dagan, called for an extensive military operation that would "eradicate" terror in the area.
"I spoke with the chairman of Shaked, Chai Shmolwitz. The residents of the town, the town itself, and the entire nation of Israel are strong, steadfast, believe in the justice of our path, and expect the government to change," said Dagan.
He later addressed the government: "Today it is already clear to everyone that there is no escape. There are no fake stories and no excuses. The government must order the IDF to immediately launch a larger, broader, more thorough and in-depth operation in all of northern Samaria."
"Such an operation must end with a decisive victory - certainly not a surgical strike," he said. "It is no longer possible to be satisfied with partial victories and with providing the 'Palestinian Authority' which is the one enabling the firing of rockets and is behind most of the terror, with its strange case of immunity. The Israeli people expect a decisive victory, and victory can be reached with the help of a determined and strong military strike."
"The common denominator of all these attacks: the shooting attacks and the rocket fire is the displacement of Jewish communities from northern Samaria 18 years ago by the Sharon government," continued Dagan.
"The government must embark on a determined operation that ends in victory, and also completely rebuild the destroyed villages. This is what will ensure a strategic civilian response alongside the military one," he added.
"Instead, the government and the cabinet are making serious decisions to strengthen the Palestinian Authority, which allows rockets to be fired from its territory again and again, and is the source of a majority of the terror. The public expects a strategic change and a real decision - not fairy tales," he stressed.
"The operation was the beginning, but we must continue with all our might and stem the terror," concluded Dagan.