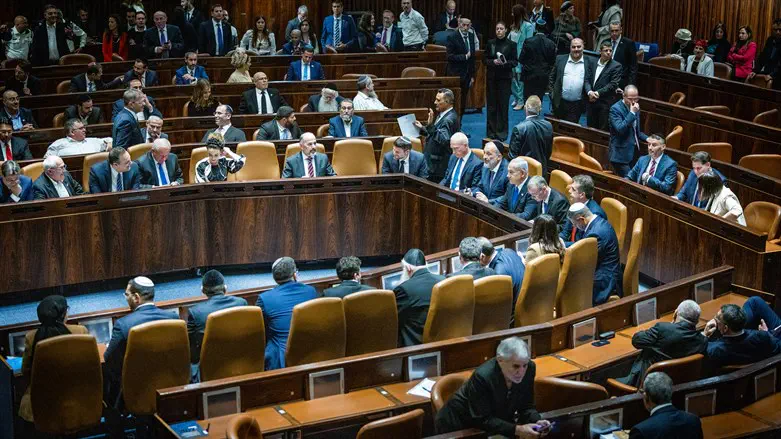 Knesset plenum
Yonatan Sindel/Flash90
An unusual event took place this evening (Monday) in the Knesset after a number of left-wing protesters opposing the legal reform tried to break into the building while Israel's parliament was in session.
Knesset orderlies arrived at the scene and forced them out after a brief struggle.
The demonstrators attempted to glue themselves to the entrance in advance of the planned vote on the bill reducing the courts' ability to apply the "reasonableness standard" in its first reading.
Earlier it was learned that the guest stand in the Knesset was closed off based on information that protesters intended to violate the order.
After conducting a situation assessment, the Knesset officer decided that in order to maintain security in the building, which had already been the scene of protests on several occasions earlier in the day, it was necessary to temporarily close off the stand.
The Knesset officer also ordered an inspection of protest signs that had been hung throughout the day.
In the meantime, Police Superintendent Kobi Shabtai held a situation assessment meeting in preparation for a series of protests planned to take place tomorrow, with an emphasis on those planned for Ben Gurion International Airport.
During the meeting, the commissioner emphasized that: "the Israel Police is an apolitical organization that practices in an egalitarian manner while balancing between maintaining the right to protest and zero tolerance for disturbances and damage to symbols of government and violence against police officers and damage to infrastructure."
Ha'aretz reporter Josh Breiner, meantime, said that the commissioner ordered police to distance demonstrations using megaphones at ministers' homes by a distance of 300 meters and start handing out fines for "unreasonable noise levels."