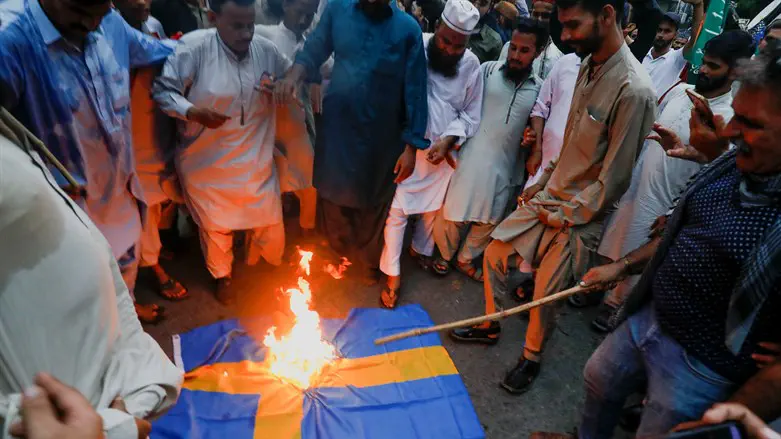 Protesters burn Swedish flag in Karachi, Pakistan
REUTERS/Akhtar Soomro
Muslims in Pakistan on Friday held rallies to observe a "Day of the Sanctity of Quran" after the country's Prime Minister Shehbaz Sharif issued a call for anti-Sweden protests over last week's burning of the Islamic holy book in Stockholm, The Associated Press reported.
The biggest anti-Sweden rallies were expected in the eastern city of Lahore and in Karachi, the largest city in the country. In the capital, Islamabad, lawyers holding copies of the Quran protested in front of the Supreme Court, while worshippers outside mosques held small rallies, demanding the severing of diplomatic ties with Sweden.
A group of minority Christians in the northwest also held a rally to denounce the burning of the Quran, according to AP.
The Muslim world reacted with outrage after an Iraqi citizen living in Sweden, Salwan Momika, 37, stomped on the Muslim holy book and set several pages alight.
Swedish police had granted him a permit in line with free-speech protections, but authorities later also said they had opened an investigation over "agitation".
Sweden's government on Sunday condemned the Quran burning and called it an "Islamophobic" act.
In a televised speech to lawmakers in the parliament on Thursday, Sharif questioned why the police in Sweden let the burning of the Quran go ahead.
On Friday, Sharif took to Twitter, urging his compatriots to send a strong message to Sweden by holding rallies and demonstrating.
"When it comes to the Quran, the nation is one," he wrote. "We will all protest nationwide today under the title of Sanctity of Quran Day and after Friday prayers."
This week, police in Stockholm received three new applications to burn religious texts in public, including a Torah.
Authorities told Sweden's national public broadcaster SVT that one application involves the burning of the Torah and a Christian Bible outside the Israeli embassy in Stockholm on July 15.
Another request to burn a Quran "as soon as possible" in Stockholm was submitted by a woman in her 50s.
Israel's Ambassador to Sweden, Ziv Nevo Kulman, responded to the reports and tweeted, "I am shocked and horrified by the prospect of the burning of more books in Sweden, be it the Koran, the Torah or any other holy book. This is clearly an act of hatred that must be stopped."
(Israel National News' North American desk is keeping you updated until the start of Shabbat in New York. The time posted automatically on all Israel National News articles, however, is Israeli time.)