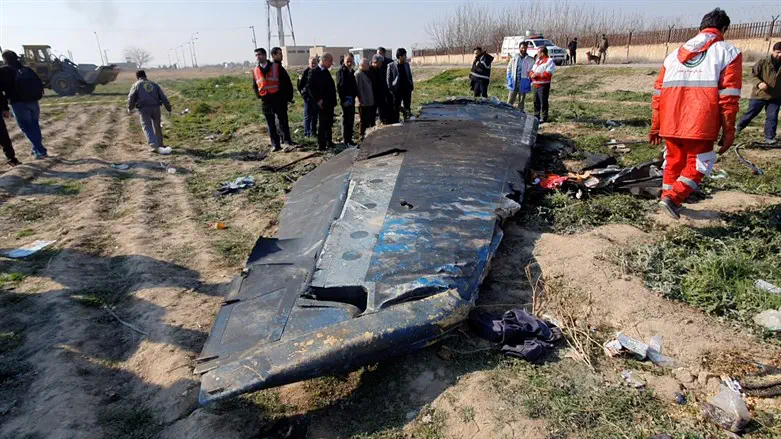 Debris of the Ukraine International Airlines, flight PS752
Reuters
The United Kingdom, Canada, Sweden and Ukraine on Wednesday officially launched a case against Iran at the United Nations' highest court over the downing in 2020 of a Ukrainian passenger jet and the deaths of all 176 passengers and crew, The Associated Press reported.
The four countries last week announced they would take Iran to the International Court of Justice. They are asking the court to rule that Iran illegally shot down the Ukraine International Airlines plane and to order Tehran to apologize and pay compensation to the families of the victims.
Flight PS752 was traveling from Tehran to Kyiv on January 8, 2020 when it was shot down soon after takeoff. The people killed included nationals and residents of Canada, Sweden, Ukraine and the United Kingdom, as well as Afghanistan and Iran. Their ages ranged from 1 year to 74 years old.
The crash came shortly after Iran fired ballistic missiles at two bases in Iraq that house US forces in retaliation for the US eliminating top Iranian General Qassem Soleimani.
Iran initially denied having anything to do with the crash, but US officials said early on that the plane had been shot down by the Iranian Revolutionary Guard Corps.
Iran later admitted that it had made a mistake and shot the Ukrainian plane after it flew too close to a sensitive military site and failed to respond to signals.
"Today's legal action reflects our unwavering commitment to achieving transparency, justice and accountability for the families of the victims," the countries said in a joint statement quoted by AP. They said they filed the case after Iran failed to respond to a December request for arbitration.
According to the court filing published Wednesday, the UK, Canada, Sweden and Ukraine argue that Iran "failed to take all practicable measures to prevent the unlawful and intentional commission of an offense" and "failed to conduct an impartial, transparent, and fair criminal investigation and prosecution consistent with international law."
The filing alleges that Iran withheld or destroyed evidence, blamed other countries and low level Revolutionary Guard personnel, "threatened and harassed the families of the victims seeking justice" and failed to report details of the incident to the International Civil Aviation Organization.
Iran's civil aviation authority has blamed "human error" as the reason for the downing of the plane, a report which was dismissed by Canadian authorities.
In April, the Islamic Republic sentenced 10 members of the armed forces to prison after finding them guilty of involvement in the downing of the airliner.