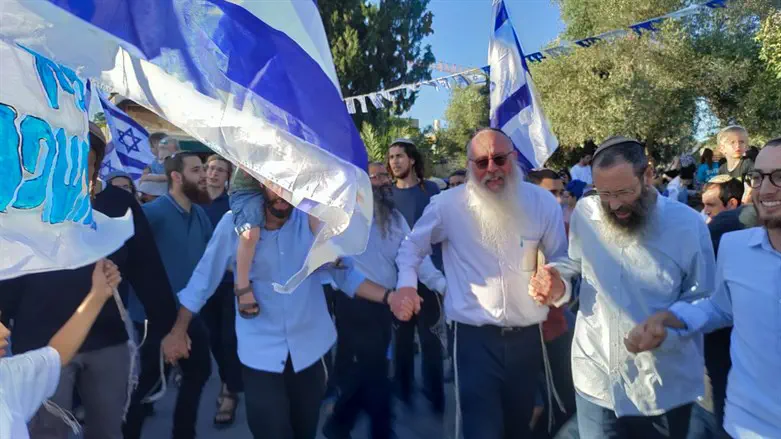 The Family Values rally in Mitzpe Ramon
Mitzpe Ramon Residents for Family
Efrat Ziv, a teacher, mother of six, and one of the organizers of the 'Family Values' rally in Mitzpe Ramon against the Pride Parade that took place in the city, tells Israel National News why it was decided to hold the event.
"Our event is intended to give an opportunity to the people of Israel who are afraid to say the simple truth - that a Jewish family consists of a father, mother and children. This is the foundation of the existence of the people of Israel. We want the message from Mitzpe Ramon to echo everywhere," explains Ziv.
According to her, "At first we were hesitant about whether to bring the children to the event. But to tell the truth, the family organizations answered our doubts. As soon as they introduce all the poison into the education system, into television and textbooks - then our children are also exposed to it and are part of our campaign to stop this phenomenon".
Ziv says that the need for the event stemmed from the very fact that the anti-LGBT position was suppressed. "It started with a lecture we wanted to give at the community center and they tried to sabotage it and also inside the lecture hall they tried to prevent the lecturer from telling the truth. We have a store in the industrial area in Mitzpe Ramon and they threatened the owner there. Today only one side is allowed to speak - our truth is not allowed to be heard. We are fighting for it."
When asked if confrontation is the right way to go about this, she answered, "The truth is, if they didn't interfere with us and enter our places everywhere, we wouldn't be talking about them. Since we have no choice, we go out and say these things in public - without entering anyone's house. Someone who brings this poison out can't be surprised that we are answering them. We want to gather around us the people of Israel and express our protest and explain what is right."