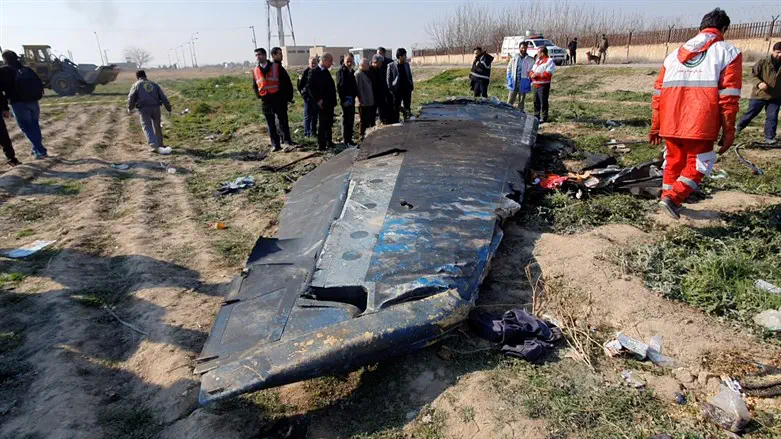 Debris of the Ukraine International Airlines, flight PS752
Reuters
Canada, Britain, Sweden and Ukraine said on Thursday they will take Iran to the International Court of Justice "as soon as possible" to seek damages for families of passengers on a jetliner downed by Tehran, AFP reported.
Iranian forces shot down Ukraine International Airlines flight PS752, which was headed for Kyiv, shortly after its takeoff from Tehran on January 8, 2020, killing all 176 people on board.
The crash came shortly after Iran fired ballistic missiles at two bases in Iraq that house US forces in retaliation for the US eliminating top Iranian General Qassem Soleimani.
Iran initially denied having anything to do with the crash, but US officials said early on that the plane had been shot down by the Iranian Revolutionary Guard Corps.
Iran later admitted that it had made a mistake and shot the Ukrainian plane after it flew too close to a sensitive military site and failed to respond to signals.
Canada, Britain, Sweden and Ukraine -- which had a number of citizens on board -- have been seeking reparations on behalf of victims' families.
But, they said in a joint statement on Thursday, the latest attempt to have Iran submit to binding arbitration under a 1971 multilateral treaty on threats to civil aviation has failed.
The four countries said they "intend to pursue our collective effort to ensure Iran is held accountable for the unlawful downing of Ukraine International Airlines Flight 752 by referring the dispute to the International Court of Justice as soon as is practicable."
Iran's civil aviation authority has blamed "human error" as the reason for the downing of the plane, a report which was dismissed by Canadian authorities.
In April, the Islamic Republic sentenced 10 members of the armed forces to prison after finding them guilty of involvement in the downing of the airliner.
Thursday's announcement came a day after Iran took Canada to the Hague-based International Court of Justice, the UN's top tribunal, accusing Ottawa of allowing victims of alleged terror attacks to claim damages from Tehran.
Tehran's case claims that Ottawa, which listed the Islamic Republic as a sponsor of terrorism in 2012, had violated Iran's state immunity.