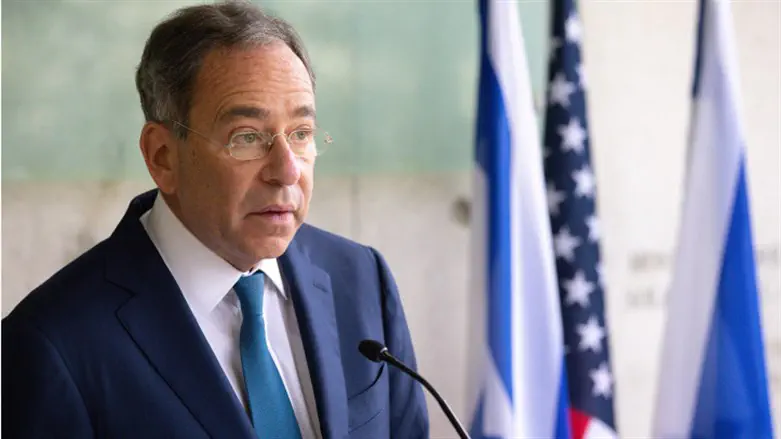 US Ambassador to Israel Thomas Richard Nides
Olivier Fitoussi/Flash90
Outgoing United States Ambassador to Israel, Thomas Nides, says he regrets a recent tweet in which he equated the murder of Israeli civilians by Arab terrorists to deaths caused in IDF anti-terror operations.
"I screwed up," Nides told Israel Hayom's Ariel Kahana in an interview which will be published on Friday. "I had just returned from Los Angeles when I got word of the attack. I was shown a draft of a tweet, and I signed off on it. But it was a stupid thing to do," he recounted.
The tweet, posted on the Ambassador's official account shortly after the terror attack which claimed the lives of four Israelis near Eli, stated: "Deeply concerned about the civilian deaths and injuries that have occurred in the West Bank these past 48 hours, including that of minors. Praying for the families as they mourn the loss of loved ones or tend to those injured."
Nides continued: "Moments later, I saw that (former Prime Minister Naftali) Bennett had tried to reach me. I asked him, 'What happened?' and he said I had screwed up. And so I made sure to immediately issue another tweet [that included a clear condemnation of the terrorist attack]. In no way do I compare terrorists and those who are murdered by terror. You know I have gone to many funerals and visited many bereaved families, including those beyond the Green Line, despite the opposition of those in Washington. I will not accept a situation in which I only visit two families of victims from a certain attack but do not go to the third victim's family just 20 minutes from there just because they live across the Green Line. This tweet was the first time that I messed up like this."
"There'll be a beautiful meeting"
Israeli Prime Minister Benjamin Netanyahu began his current term over seven months ago; despite this, he has yet to receive an invitation from President Biden to visit the White House. Ambassador Nides says he is sure such an invitation will come at some point but has no idea when.
President Biden, Nides added, "has probably met with Bibi Netanyahu about 30 times. So I'm not worried about their relationship. I'm really not. I mean, there will be a meeting, they will meet in the White House. There'll be a beautiful meeting. It'd be a beautiful conversation. I'm not worried about that. But listen, as you all know, Israel is going through a lot of consternation right now. Judicial reform, and other things."
The Ambassador says he thinks everyone wants things to settle down slightly so the visit would not become controversial. "One thing that Netanyahu has said over and over again, he wants to focus on the big things. Iran, normalization with Saudi Arabia. That's what he wants to do. All this other stuff is, in my humble view, a distraction. He has his hands on the wheel, as he's told me millions of times, and he wants to focus on big things, and that's what he should be focused on. And that's what we want to focus on," he added.
No understandings with Iran
In recent months, international media have been reporting a brewing deal between the United States and Iran, the US Ambassador denies such reports. "There are no understandings. This is completely blown out of proportion. We've said this over and over again, there is no deal on the table. There is no less-for-less deal. It doesn't exist. I mean, would there be, at some point, something that we can grab onto? Who knows? But there's nothing. You're not going to wake up tomorrow and read about it. By the way, Israel knows everything we have done and said, if you ask the Israelis, they know exactly what conversations we've had. But there is no deal. We've said this 100 times, there's no deal. Ultimately, the president has made it very clear that he would love a diplomatic solution or at least to slow the program down. That's true. But there is no deal," he said.
"One thing Joe Biden said when he became president, that – contrary to the previous administration, during the Obama administration, which I was involved in – he was gonna make sure that Israel was never surprised at what we were doing. And I think we fulfilled that commitment to both Prime Minister Naftali Bennett, Prime Minister Yair Lapid, and now Prime Minister Netanyahu, and I think they all understand that we'll be totally transparent. Transparent that we're not gonna let Iran get a nuclear weapon, that we obviously are going to try to do plenty of deterrence, which is what the Israelis want us to do, including joint exercises, doing the things that send strong messages. We're doing all of that, which we said we're going to do," he added.