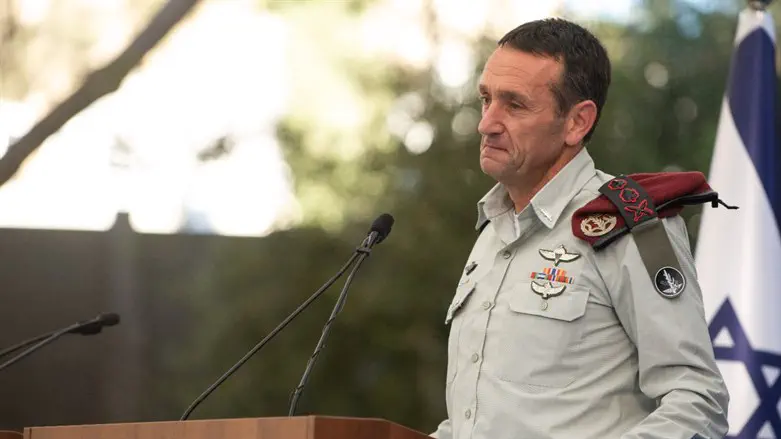 Herzi Halevi
IDF Spokesperson
IDF Chief of Staff LTG Herzi Halevi addressed the graduation of the IDF Ground Forces Combat Officers Course on Wednesday and mentioned recent violent incidents in Judea and Samaria.
"The IDF is a military that defends and triumphs thanks to the professionalism of its soldiers and the leadership of its commanders. An IDF commander leads by example and commands from the front. When leading, the commander trusts their soldiers, and they, in turn, trust their commander, so they are never alone," the Halevi opened.
"Aside from these missions," he added, "you will encounter complex challenges. Terrorism and its difficult consequences bring some people to commit acts that are legally and ethically forbidden. An IDF officer who stands by when seeing an Israeli citizen planning to throw a Molotov cocktail at a Palestinian house cannot be an officer. This is our way. It is our strength here in the complex region in which we live, and we must not exhaust it."
LTG Halevi, whose description of the scenario was hypothetical and not based on an actual incident, also hinted at recent criticism aimed at the IDF policies and officers: "Anyone who criticizes the IDF should remember: an apology after the fact does not eliminate the great damage caused. The IDF operates solely for the security of civilians, hence its authority. Lashing out at those who dedicate their lives to defending others harms the security of civilians."
The Chief of Staff was referring to several incidents in the past few weeks, during which far-right Israelis rioted in PA-controlled villages where they allegedly burned vehicles and buildings. In a separate incident, the friends of Harel Masoud, who was murdered last week in the terrorist attack at the gas station in Eli, verbally attacked the commander of the IDF's Binyamin Brigade, Eliav Elbaz, who had arrived to pay a condolence visit at the victim's home.